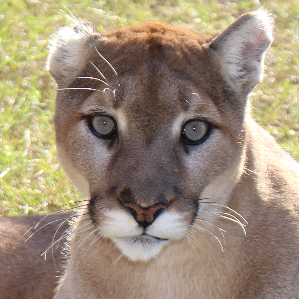 Lakai
Sex: Male
Born: 7.31.2009
Loving Adoptive Parents: Jamie Reed - Dallas, TX; Karen, Mike, and Alyssa Barnes - Muenster, TX; and Lisa Quinn - Waco, TX
Loving Sponsors: Chris Dutle - Grapevine, TX and Kory Bock - Grapevine, TX
---
In fall 2009, Lakai's mother was illegally shot in Alberta and he was taken from the wild when he was less than 3 months old. Prior to coming into human care, he developed frostbite on his right ear, causing him to lose most of it. Lakai was first given a home at Calgary Zoo, and then transferred to the Dallas Zoo where he was introduced to Apollo. The two have been inseparable ever since.
After 7 years living at the Dallas Zoo, CARE was approached to take the pair in when the zoo made the decision to permanently close the oldest enclosures in their park - where the two mountain lions were living. CARE was happy to provide the males a permanent retirement home and they moved in January 2018.
Lakai is very easily identified due to his missing ear, but he is still a remarkably handsome fellow. Lakai is braver than Apollo, and readily comes to greet CARE staff and volunteers. After being here only a month, he already seems very at home at CARE and can be seen trying to entice Apollo into playtime or curled up with him in a quiet nook.