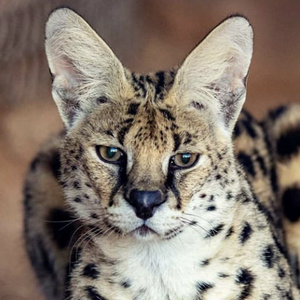 Kevin
Sex: Male
Born: 2017
Loving Adoptive Parents: Kenzie Trezise - Madison, WI; and Emily Draper - Sugar Hill, GA
Loving Sponsor: Jennifer Lugo - Leander, TX
---
Kevin arrived at CARE on September 1, 2019, at two years old. 
Kevin was originally kept as a pet by a couple in North Texas. After a divorce, he was rehomed to another private owner in central Texas. His neighbor, knowing it was not an appropriate home for a wild cat, worked for a year to convince the new owner to rehome him to a suitable facility - and that is where CARE came in. 
Kevin communicates many things by hissing, and it is not always a bad thing, it is sometimes just how he talks. But he is a  confident and resilient cat and we look forward to giving him the best life possible here. 
We want to thank Guiia Koplin for tirelessly working on getting this boy into a new home, Veterinarian Dr. Jonathan Cohen for lending his expertise and service, and Nick Phomkasornsri for working on finding the right place for him to spend the rest of his life. You are his heroes!