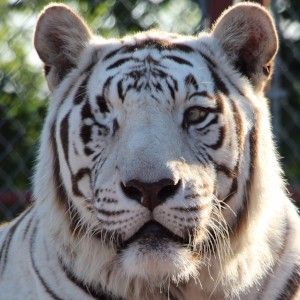 Solano
Sex: Male
Born: December 3, 2001
Loving Adoptive Parents: Kristin and Chris Warwick - Columbus, OH; and Bridgeport ES 2nd Grade Class of 2017 - Bridgeport ISD
Loving Sponsors: John Hamiga – Colleyville, TX 
---
Solano is a very special white tiger. He has one of the most beautiful personalities of all the cats at CARE. Solano was unfortunately born with crossed-eyes. This is a not-uncommon problem in white tigers, particularly those whose parents were related and bred to ensure white offspring. He was seen as worthless to his previous owners because of this defect, so CARE gave him a home.
In 2014 we noticed a growth on one of his eyes. It turned out to be cancer, so in order to hopefully keep it from spreading, the eye was removed. Because his vision was always limited with crossed-eyes, he possibly sees better now with one eye than with both! We have seen no signs of cancer since then!
Solano is a favorite with CARE visitors because he is SO talkative and moos like a cow. He will tell you all kinds of stories if you listen. He also loves to play - running around with joy on his face and being adorably goofy.