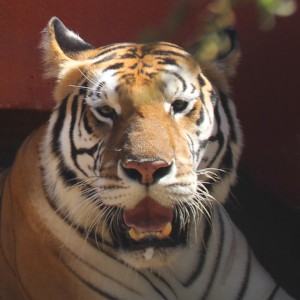 Wren
Sex: Female
Born: February 1, 2012
Loving Adoptive Parents: Stephanie McCollum - Hurst, TX and Kim Swaner - Murray, UT
Loving Sponsors: AVAILABLE
---
Wren is 6 years old and arrived with 4 other cats at CARE from a private facility in Florida. She, out of all the cats, had never been in a transport cage before so it was quite a bit rougher with her than the others. She just did not want to get out of her cage. Once she did, then she really did not want to get out of the entryway she was in. Then she moved to a corner and really did not want to move from there. For all of these cats, this transition is stressful. But for some it can be far worse. Thankfully, from the minute she arrived she formed a connection with Derek and Heidi's son, Dakota. He stayed with her the whole time she was being moved and she was definitely looking to him for security and comfort. 
Since she has moved in, she is doing fairly well. She did not feel very comfortable with her neighbor Solano, so we put up a screen between them to give her some privacy during her transition. She has shown that she is friendly and comfortable with her human caretakers though, and we look forward to her becoming more comfortable every day. 
To read more about Wren's arrival, click here.