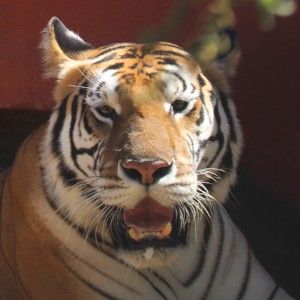 Wren
Sex: Female
Born: February 1, 2012
Loving Adoptive Parents: Stephanie McCollum - Hurst, TX and Kim Swaner - Murray, UT
Loving Sponsors: Ashes DiMaria - Dallas, GA
---
Wren arrived with 4 other cats at CARE from a private facility in Florida that closed down. She, out of all the cats, had never been in a transport cage before so it was quite a bit rougher with her than the others. She just did not want to get out of her cage. Once she did, then she really did not want to get out of the entryway she was in. Then she moved to a corner and really did not want to move from there. For all of these cats, this transition is stressful. But for some, it can be far worse. 
Thankfully, it did not take long for Wren to settle in. Today, she is one of the friendliest girls, always welcoming visitors for a chat. She can get a little possessive of food and toys but is also full of love to give. 
To read more about Wren's arrival, click here.