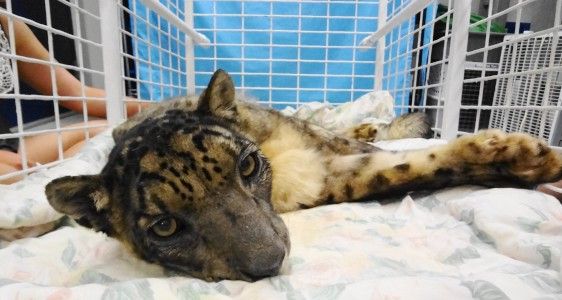 Arctic's Storm
Being close to the big cats of CARE offers up a unique insight into the lives of these great animals. Over a long enough period of time, a person working at CARE will eventually come to see the rise and fall of numerous beasts. They will see the beauty of vibrant health and life, and they will also see the tragedy of withering sickness and death- a fate all at CARE fight tooth and nail to postpone. Some animals are blessed with a healthy life devoid of sickness and suffering from beginning to end (an envied life no doubt) and then some animals, just as some people, struggle through various illnesses and ailments through the course of their lives. This story is going to be about one of those very animals whose life has been anything but easy, but whose desire to fight and live inspires all who meet him.
Ten year old Arctic the Snow Leopard has always been a favorite at CARE. Being a snow leopard means he is rare and he demands attention and admiration- and he knows it. He is beautiful and aloof, he is the jewel of CARE. He started his life at the facility as a cute, fluffy, oddly-behaved cub and stole everyone's hearts.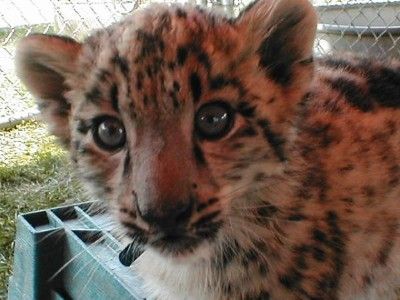 As Arctic grew, he became a joy to all who met him due to his beauty and the quirks which set him apart from the other cats. People would comment about how there was just something about his personality which was different, sometimes screwy, but always charming.
To say Arctic has always been high-maintenance would be an understatement. He has a soft, dense coat suited for frigid high-altitudes that makes the Texas heat hard to handle. Due to this, he was built a specialized environment consisting of a water-fall/cave system which acts as a swamp-cooler that keeps him much cooler when the temperature soars.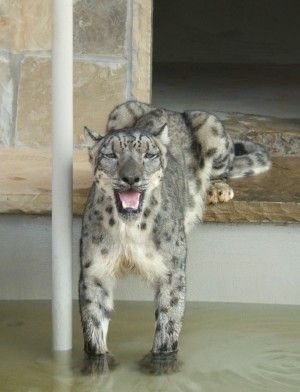 Also, like many snow leopards, Arctic is susceptible to various respiratory illnesses which can worsen over time. He has been struggling with infections for years, but the infections have become deadly in recent months. When these infections occur, he refuses to eat or drink and has difficulty breathing. Back in March of this year, he became septic due to these infections, but the CARE staff was able to pull him out of it with a vigorous wellness and medication regimen, and, for a while, all seemed to be going fairly well. Arctic's CAREtakers knew then that he would more than likely struggle with these infections for the rest of his life, but a plan was made to manage his condition with oral antibiotics, periodic housing in climate-controlled environments, and a special feeding routine. These things were hoped to give Arctic the peace and comfort which is a mainstay of CARE's mission statement.
However, two weeks ago, Arctic became ill again, and this time his CAREkeepers were not sure he would recover. After showing no interest in eating for 10 days and receiving injected fluids as his sole source of hydration, things became critical and he was driven down to Texas A&M University for a comprehensive exam with their renowned Zoological department. Arctic underwent X-rays, CT scans, an MRI, extensive blood work, urinalysis, and a spinal tap all in one day so that the vets at A&M could have a more comprehensive idea of exactly what type of infection he was battling.
He had a very rough day, but at the end of it he was able to come home to CARE accompanied by a large array of medications and a very precise treatment plan. He is on daily IV fluid treatments and a very aggressive antibiotic treatment including a nebulizer.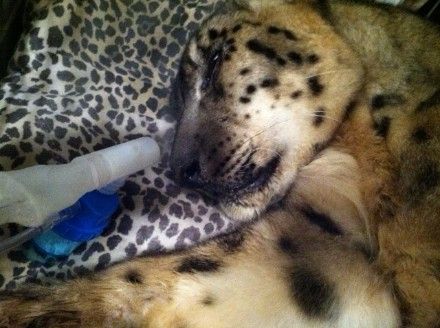 He is currently staying in the house of CARE's Executive and Operations Directors so that they can keep a close eye on him, monitor his meds, make sure he is eating and drinking properly, and to also provide him a steady stream of attention and affection. Arctic's CAREkeepers are still waiting on some of the results to know exactly what type of bacterial infection is the cause or if this is a viral issue.
The prognosis was not great at the beginning, but every day he seems to get stronger. He has been eating several pounds of ground chicken a day and drinking a good amount of water. His vision is improving and his snotty-nose is much better! Arctic's CAREkeepers will not give up on him- not as long as he is willing to fight, and a fighter he is! The CAREkeepers have beaten the odds before with cats who have fallen ill and would have died in less determined hands, and the CAREkeepers are determined to beat them again. This is what the CARE mission comes down to: Arctic is in need of tremendous amounts of love and attention and the CAREkeepers are all completely committed to making sure he gets everything he needs to be healthy and happy again.
CARE has been incredibly blessed to have the incredible Zoological team at Texas A&M treating our beloved Arctic as well as so many supporters coming to aid in covering his more than $4,000 veterinary bill. A little over half of the amount has been donated so far and CARE still encourages its supporters to donate what they can to help cover the costs. This is going to be a long road to recovery with many more expenses down the road and if he is to become well again, than this treatment is not anything less than a necessity.
Arctic's needs right now are not just physical. He is in need of constant companionship and encouragement. Stimulation is key- as long as he is interested in his surroundings he will have more reason to fight for his life. He becomes very distressed and upset when he is left alone. It is vital that someone is with him as often as possible to provide him with comfort and activity.
CARE is looking for anyone who is interested in either donating funds to help cover his medical expenses or donating time to spend with Arctic and helping to be a "snow leopard-sitter". Anyone interested in giving financial support for Arctic's vet bills can click on the Paypal button below. Anyone interested in being a sitter can contact Heidi at heidi@bigcatcare.org to schedule a time to sit with Arctic in the coming weeks (it is necessary for anyone interested in being a sitter to have attended a CARE Volunteer Training Day- no exceptions). CARE needs help in giving Arctic a life of health and comfort once again.
CARE could not provide Arctic with the world-class healing regimen that he is now on without the dedicated support of its members and donors. With that said, the facilitators of CARE extend their deepest thanks to those who have already given so much to help bring Arctic back to his old, quirky, fuzzy self.
---