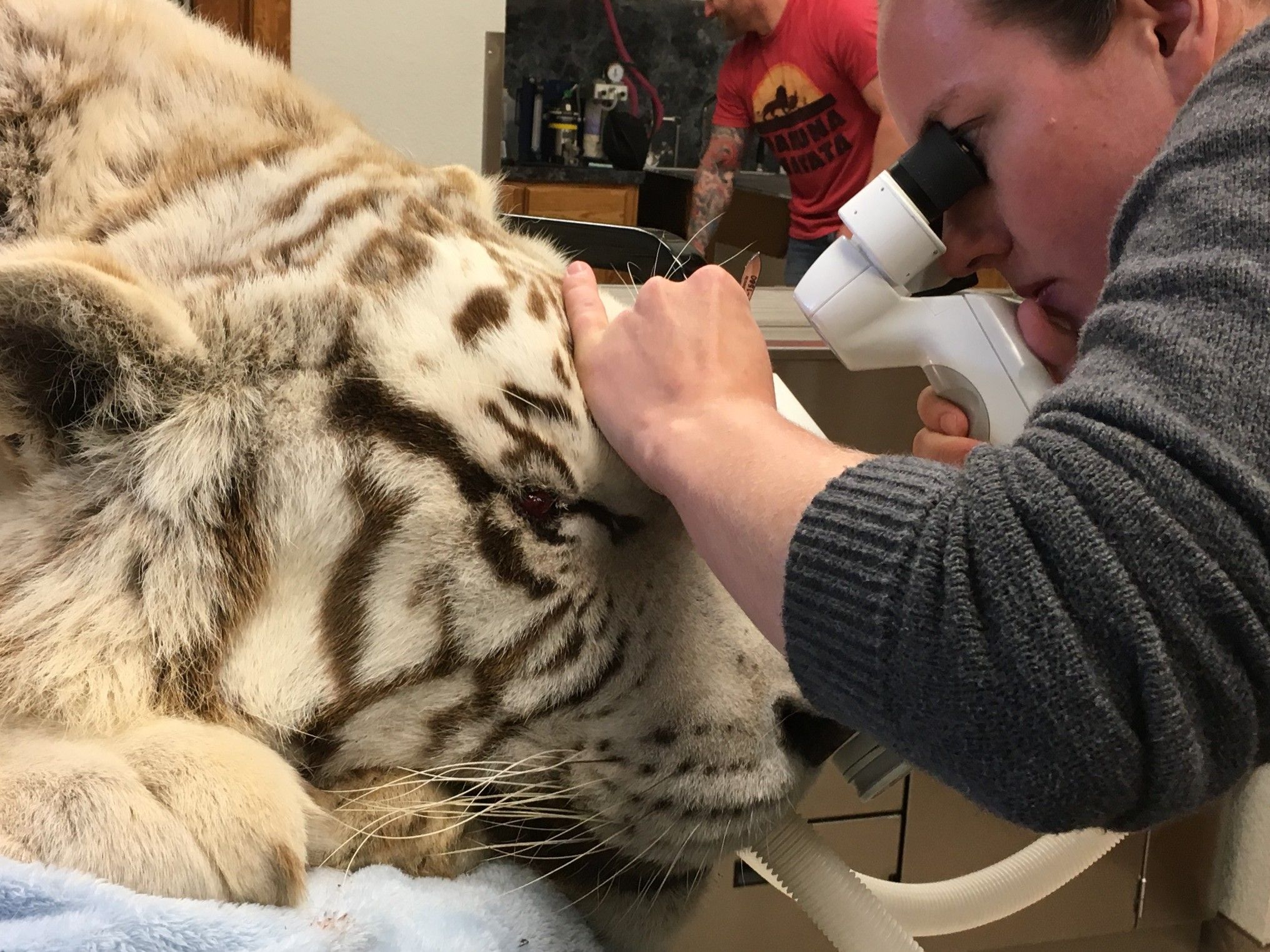 CARE on Nat Geo Wild's Animal ER
On March 12th, 2017 the Nat Geo Wild channel brought two veterinary specialists out to CARE to film a mass removal from white tiger, Flash, for the show Animal ER.
Flash had already had one growth on his eyelid removed years ago. CARE staff noticed that another mass had appeared on the other eye. Animal ER volunteered to bring in Ophthalmologist, Dr. Julie Hempstead from Gulf Coast Veterinary Specialists, to look at his eye.
During the transport from CARE to Bridgeport Animal Hospital, Dr. Bill and CARE Executive Director, Heidi Krahn, discovered another mass in Flash's ear that was identified as melanoma. During surgery, Dr. Hempstead was able to remove the mass from Flash's eye successfully without having to damage his eyeball. During the procedure, Heidi and Dr. Bill made the decision to remove Flash's ear as well in order to keep the cancer from spreading.
While both surgeries went without incident, an ear removal is an incredibly painful procedure. We knew recovery would be difficult. Flash had more difficulty though after the surgery than was expected. Blood tests revealed kidney issues. After 43 days of anti-inflammatories, pain medication, appetite stimulators, antibiotics, aromatherapy, oxygen treatments, hydration, music therapy, and multiple check-ups with Dr. Bill, Flash was still not recovering and was continuing to refuse to eat. We made the decision to end his suffering. Likely, 15 year old Flash had renal issues already and the sedation and difficult surgery was too much for his body to handle. You can read more about Flash here.
Despite Flash's death, the show (Season 2, Episode 1: Fire Drill) aired on the Nat Geo Wild Channel on August 19th, 2017 and can be viewed on their website here.
We also captured behind the scenes footage throughout the day that you can view on our YouTube channel. We recommend watching the episode before watching the behind the scenes video.
**WARNING: GRAPHIC CONTENT – Flash's surgery is shown in graphic detail, and may be difficult for some to watch.
---