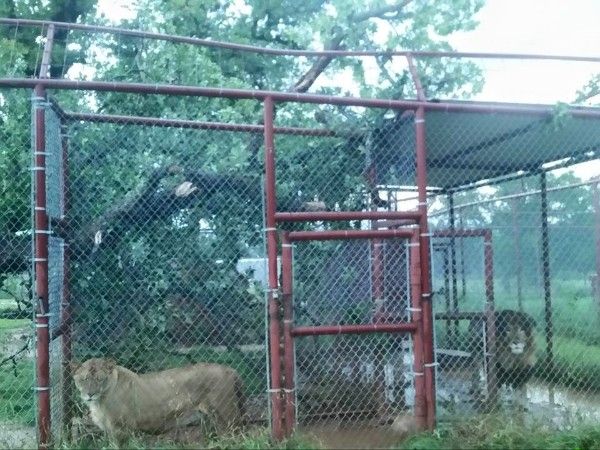 CARE Weathers the Storm
It has been a crazy (and very scary) few days, but we really wanted to take some time to do a proper update on how things are going. First, we really need to make sure we say what we are thankful for right now, things could have been much, much worse than they were!! We also want to extend our heartfelt condolences to the many, many people in the area that lost far more than we did.
We are thankful……
…..That all the people and animals at CARE are safe. No one was hurt and no cats escaped. That is largely due to the incredible construction of the enclosures that took a beating, the amazing leadership of Executive Director Heidi Krahn and Operations Director Derek Krahn, and the fast work and amazing calm of the CARE staff prior to, during, and after the storm-including our BRAND NEW interns under the supervision of senior volunteer/intern graduate Krista Cope.
…..For all the people that made it out yesterday to help clean up. JD Thompson - our tree god - was here at daybreak cutting trees and limbs until well into the evening. Andrew Rottner sent a generator for our freezer and 750lbs of chicken to help feed the cats. Camilla Smith, Derek Blakley, Annette Wiley, Krista Cope, Derek Krahn, Jessica Richter, Katie Handley, Heidi Krahn, Pam Lanfear, Jeff Fisk, Kelsey Prediger, Dustin Krahn, Destiny Krahn, Dakota Krahn, Claude and Stacey Maealiuaki (thanks for making lunch for the crew Stacey), and Gary Valdata (please forgive us if we forgot anyone!) were out here all day cleaning, working, and providing the best care to the cats. Our volunteers are truly the most amazing people who dropped everything for the animals. In one day, the majority of the debris was removed, enclosures made safe, and things almost back to normal.
….Everyone who reached out to ask if we needed help, see what they could do, shared our info with friends and family asking for assistance, and offered words of support and concern. Knowing that CARE has so many people out there who love the animals and are concerned for their well-being makes our hearts full. You have no idea how special that is!
….All the local news channels, NBC DFW, CBS DFW, and Fox 4 News, who covered what happened here and helped get the word out that we needed help. And, everyone who reached out to the media on our behalf (thank you especially Heather Merritt). Having the media support the animals is amazing! 
….All of our amazing friends (and people we have never met) out there who donated to help the animals! Almost $11K has come in since late Monday night to help with repairs. So many of you gave, we wish we could name you all, but the number of people willing to give is just overwhelming. Just know that we saw each and every gift come in and thank you from the bottom of our hearts for your willingness to help.
In fact, we truly think that the amount of repairs will be covered by what has just been donated, with some left over. So, we want to tell you a little bit about what we will do any extra money. We weren't going to say anything for a few days until we had all the details in place, and the timing is a little off, but now is as good as time as any….especially since we really owe the safety and security of our animals to one important thing – the enclosures that were masterfully built for them. Specifically built to withstand the strength of tigers and lions, it seems they are excellent at withstanding tornado winds as well! Now, we need a new double enclosure to house our youngest residents who are VERY quickly outgrowing their current accommodations. Araali & Zuberi and Boomer & Slade need new houses! We have the plans drawn up and have been getting estimates on supplies and labor. We take the construction of quality enclosures very seriously and with the special needs of the young lions, and the fact that due to new USDA regulations they have to be a new height, this enclosure will not be cheap. But, thanks to you, we have a head-start on the fundraising! We will be getting out more info on the project with all the details, cost of construction, and where you can donate very soon. We even have a few cool things planned to make this fundraiser as successful as possible. Stay tuned and again, thank you all so much for your dedication and love of every single creature that calls CARE home. They are so fortunate to have friends like you!!
---