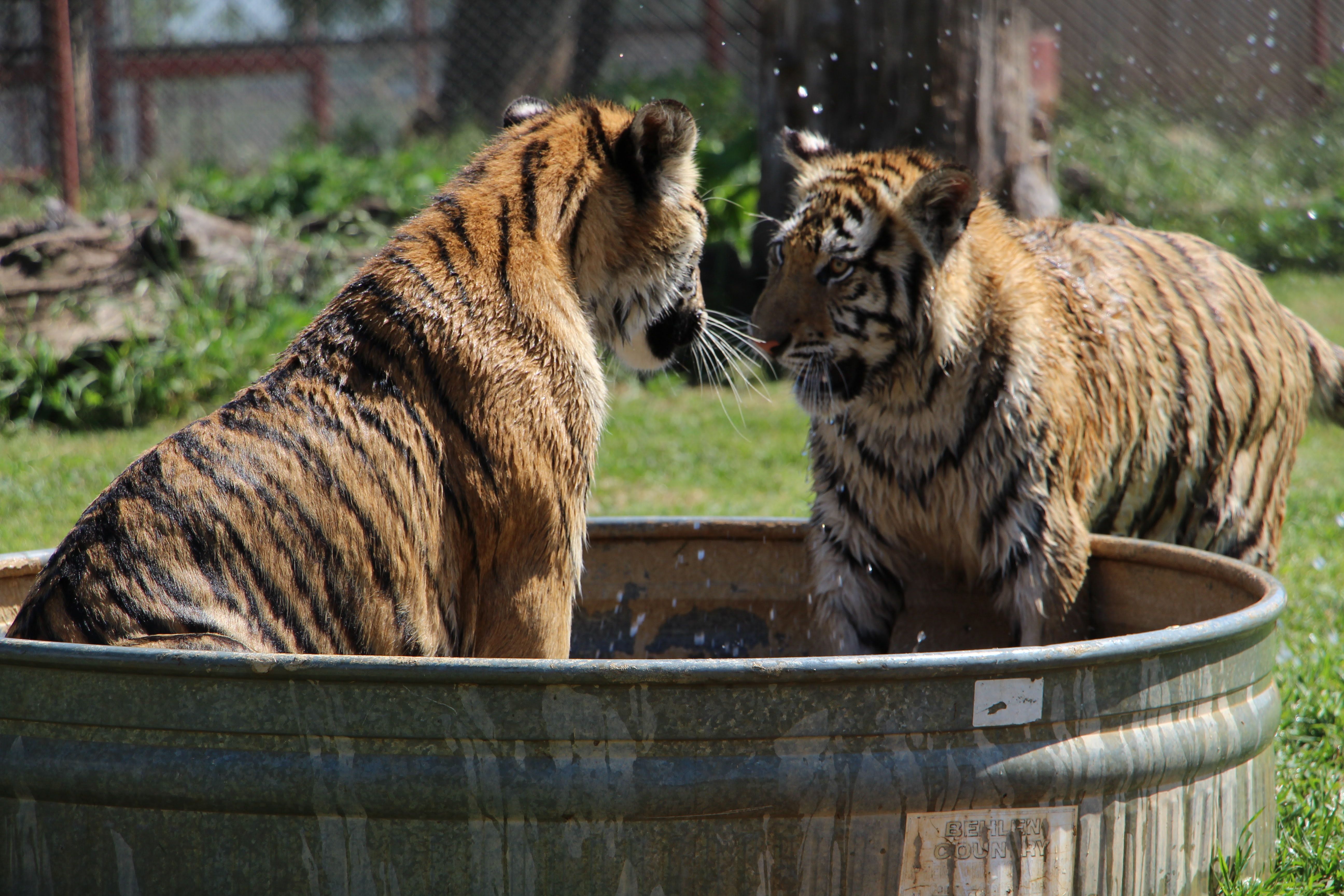 Cool Cats Update!
Update 8/11/2018:
Our Cool Cats fundraiser is over and thanks to our supporters, we exceeded our goal of $30,000 in LESS than 30 days! We are so thankful to the 350 people who generously supported us this summer. We are working hard now on getting the cats everything they need to stay cool this summer and every summer thanks to the donors below!
Abby Waide, Abby Boop, Aleksi Sapon, Alicia Neal, Allison Ross, Allyson Smith, Amanda Kral, Amanda Irish, Amber D, Amy Baker, Amy Bachman, Amy Regis, Amy Renaud, Andrea Plante, Andrew Massman-Hall, Angela Parton, Angela Norton, Angelica Jimenez, Angie Wierzbicki, Ann Worley, Annette Cross, Annette Wiley, Annie Bechtel, Annie DiMattia, Anthony Petty II, Ashes DiMaria, Ashlee Bailey, Ashley Miller, Ashley Morris, Ashley Davis, Augustus Chinworth, Billy O'Brien, Bridey Murphy, Brie Burkett, Brittani Dreer, Cainan Little, Caitlin Ramsey, Camden Anzaldua, Cameron Day, Camilla Smith, Casey F, Catherine Olivieri, Charlotte Nottingham, Chelsea Theriault, Chris Dutle, Chris Rakestraw, Christie Robertson, Christie Michael and Brie Riley, Christina Manry, Christina Adkins, Christina Ducotey, Christina Joseph, Christina Decker, Christine Wenstrom, Claire Powner, Cleo Charland, Corinne Monick, Crystal Simons, Crystal Gille, Cynthia Eskina, Daan Roelofs, Dana Phinn, Dana M, Daniele Christensen, David Juel, David Stubbins, David Duffy, Deborah McDonald, Deborah Eden, Delaine Hurda, D'Lynn Braddy, Donna Marx, Donna and Tom McNamara, Dorcas Boerner, Douglas Dodge, Eimear Thornton, Elena Buck, Elizabeth Gonzales, Elizabeth Corder, Elizabeth Miller, Elizabeth Farnsworth, Elizabeth Renner, Elizabeth Sisko, Ellen Mackey, Ellie Meise-Munns, Emily Gill, Emily Kolbet, Emily Millington, Emily O'Neill, Erin Staudt, Gabriella Giaquinto, Gabrielle Rock, Gina Testino, Ginger Parker, Grace Markley, Hailey Hudson, Haley Whetstone, Hanna Steinberg, Hanna Malik, Hannah Friend, Heathet Dodge, Helene Bott, Imogen Hopper, Jak Plihal, Jake Sickler, Jamie Rogers, Jamie Reed, Jane Benning, Janene Roch, Jarckled Jarckled, Jason Loss, Jason Berlin, Jason Mitchell, Jeff Gillette, Jen Glenn, Jen Schatz, Jenay Schofield, Jenni Crewe, Jennie Cook, Jennifer Flick, Jennifer Isaacson, Jennifer Haskell, Jennifer Laws, Jessica Testa, Jillian Anderson, Jini Lindevi, Joanna Johnson, Joanne Pilot, Joanne Tedlock, Joe Saltzman, Jonathan Dixon, Joshua Sandvick, Judith Berlin, Judith Sloane, Julia Skiles, Julie Maguire, Julie Dougherty, Kara Giudice, Karen Doll, Karen Lachapelle, Karen Van De Walle, Karen Wade, Kate Music, Kate Gonzales, Kathleen Ray, Kathryn Jackson, Kathy Van Orden, Katie Efthimiou, Katie Lytle, Katrina Korb, Kayla Kloehn, Kellie Graham, Kendall Thomas, Kiersten Nicholson, Kim Frome, Kimberly Swaner, Kira Fetissoff, Kristen Burch, Kristen Fournier, Kristie Kroeger, Kristine Duplisea, Kyle Okumura, L Albright, Lara Bunting, Larson Johnson, Laura Hickey, Laura Lindauer, Leigh Quenin, Leslie Wherrett, Leslie Massimilla, Linda Davis, Linds David, Lindsey Gentzler, Lisa Leshe, Lisa Kittredge, Lona Madhak, Lori Uhing, LuAnn Mays, Lynnell Gaffar, Madeline Hoyle, Marcel Slaman, Maribeth Pratt, Marilyn Schwindler, Marissa Ireton, Mark Sakovich, Mark Beall, Marsha Poe, Mary Keating, Mary Lewis, Mary Clark, Mary Jo Laffoon, Matthew Hall, Megan Brophy, Megan Steinkerchner, Mel Rouv, Melanie Janis, Melanie Cohen, Melanie Pritchard, Melanie Piccolo, Melinda Wright, Melissa Westfall, Melissa Glenn, Melissa Buss, Melissa Mancini, Melissa Hadley, Meredith Wiggins, Mikael Riebold, Mollie Labeda, Nicci Jump, Nicole Concannon, Nicole Dore, Niels Martens, Nikki Quintanilla, Nikki Sharp, Pam Beane, Pam Reed, Patricia Smith, Paul Wareham, Peggy Brown, Peggy Thomas, Peter Dunn, Peter Wonnacott, Rachael Jennings, Rachael Reitman, Rachel Banks, Rachel Mann, Rachel Smith, Rachel Dufrene, Randi Taylor, Ray Medlin, Rebecca Farrell, Rebecca Anderson, Rebecca Farthing, Rebecca Cantrell-Ramm, Rian Dom, Richard I'Anson, Richard Dowdy, Risa Nesbit, Robert Covington, Roberta Dougherty, Rose Glass, Ruby Blaney, Sam Wellington, Samantha Kosarich, Samantha Wallace, Samira Lamnouar, Sandra Blum, Sara Snowden, Sara Barker, Sarah Broge, Sarah Baer, Sharon Hayes, Sharon Cooper, Sharron Kennedy, Shelby VanKuipers, Shelby Nayukok-Solski, Sheryl Mackey, Sheryl Colley, Siobhan Beaumont, Stella Foley, Stephanie Westcot, Stephanie Laflamme, Stephanie McCollum, Steven Cross, Stuart Brooks, Sue Morris, Susan Hogan, Susan Fantozzi, Sydney Shields, Tabitha Dinger, Taia Lucas, Tammy Wright, Taylor Smith, Terri Ruyle, Terri VanKuipers, Theresa Copeland, Thomas Greenberger, Tiffany Kolesar, Tonya Cobb, Tonya Kozak, Trixie Pereira, Veronica Kupferman, Victoria Smith, Wendy Jackson, William Hild, Wouter Boon
Summer Sucks!
Join us as we keep the big cats cool this summer and every summer! Summer is the hardest time of year for us, so we need your help to raise $30K in 30 days!
We care for over 50 animals - from lions, leopards, and tigers to llamas, lemurs, and a coati. We are always looking for ways to improve the care of the animals we love. We do a lot, but summer is by far the hardest time on us and the animals. We desperately need your help, because we have some expenses that are causing us problems!
Problem #1: Donations are always at an all time low during the summer months. 
Problem #2: The intense Texas heat takes a serious toll on the animals and us.
We need help addressing these issues, and we are depending on you!
Please visit our Chuffed fundraiser to learn more about the issues and how you can help.
---