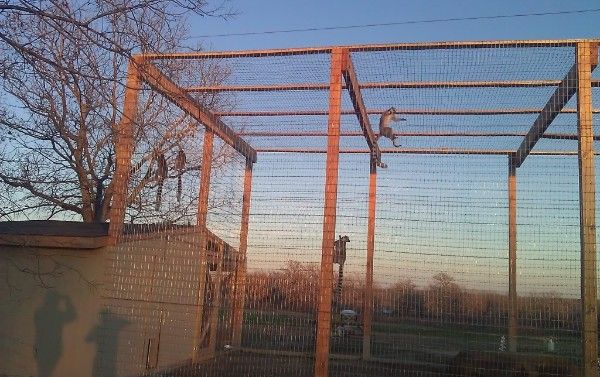 84 Lumber and Triple B Builders Give Our New Lemurs Something to Howl About
Lemur update! Five ring-tailed lemurs have arrived and are settling in nicely thanks to 84 Lumber and Triple B Builders. We must acknowledge and give a huge thank you to Ted Wenzelt of 84 Lumber in from Chandler, Arizona who organized the massive donation of materials that built the lemur dream home. Tons of materials worth many thousands of dollars arrived from the 84 Lumber yard in Denton, Texas in late November. Without this HUGE donation of crucial supplies, the whole project simply could not have happened.
Another pivotal part of the puzzle was Bryan Berry, owner of Triple B Builders who helped design and build the enclosure. Berry, and right hand man, James "Jimmy" Bender, drove 20 hours non-stop from Arizona to Texas. With the help of many CARE volunteers, the two worked from sunup to sundown every day for an entire week until the giant skeleton of the enclosure and indoor housing was complete. Triple B Builders' decades of construction experience was pivotal in constructing a sturdy and safe enclosure of the highest professional quality. All of their highly skilled labor and tool use was donated. Everything but the weather cooperated for the event.
Finally, we would like to thank all of the donors who contributed to the Lemur Fund and made the construction and initial materials purchase possible- Sandy and Frank Mendel, The Ray Family, Peggy Thomas, Susan Slade and Kristine Duplisea, Jeffrey and Carrie Kovarsky, John Stanzak, Ron Hein, Jamie Reed, Ashley Alexander, The Spicer Family, Angie Livingston, Chosen Leather and Silver, and Tigers Share. As usual, our deepest thanks to our dedicated volunteers who completed the project in record speeds in the final 3 weeks before the lemurs' arrival. Without this giant combined effort, CARE could have never completed the project in time.
The lemurs arrived at their new loving home in mid-December. They LOVE their new enclosure and are really warming up to their CAREgivers. This has been a very unique and interesting experience for both the animals and their human keepers. The lemurs have never enjoyed such a large space full of places to climb and corners to explore. We are all learning and expanding our knowledge of the cute little fuzzy climbers every day. We are happy to have them at CARE, and we are positive that they are enjoying their big new home as well. Their enclosure is fun, comfortable, and secure thanks to everyone's generosity and hard work.
CARE wishes to take a moment to thank all of the VERY generous individuals and organizations who made the "84 Lumber Lemur House" possible.
CARE also offered year-long adoptions and naming rights for all five of the incoming lemurs. We are pleased to announce that all 5 lemurs were swiftly adopted!
The Ray Family – Mort (the only male)
Susan Slade and Kristine Duplisea – Akisa (alpha female)
Frank and Sandy Mendel – Ruth (aka Akyla female who arrived separate and is integrating well)
Peggy Thomas – Rita the Ringtail (very quiet and gentle female)
Jeffrey and Carrie Kovarsky – Unnamed female
We encourage you to come and say hello to our new friends. They generally come out in the afternoon and can be seen swinging on their tree and ropes, jumping around their HUGE enclosure, and sunning themselves in the afternoon rays. Our normal winter tour hours are from 12 to 5pm. Lemurs are sensitive to cold and only come out to play on warmer days.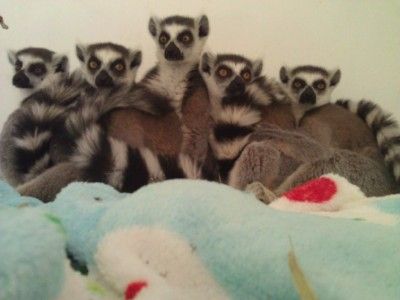 Look Who's Coming to CARE!
November 16, 2011
Lemurs! The Center for Animal Research and Education is happy to announce that we will become a permanent home to five Ring-tailed Lemurs. The Lemurs (4 males and 1 female) will be arriving on December 6th. The group of 3 year olds were in desperate need of a home, and there was not much time to find them one, so we have a lot to do in only 3 weeks!
Right now, our main focus is building their enclosure, and it is going to be awesome! There will be so much space to run, jump and climb. They will also have an indoor enclosure that is heated during the winter months. We plan to make their new home amazing and have scheduled the construction date for the day after Thanksgiving. But, in order to complete this task, we need your help! Our goal is to raise $5,000 dollars to buy all of the materials necessary to construct their enclosure. Any help that you can provide will help us immensely.
And, in preparation for the Lemurs' arrival, we are offering an amazing chance to become a part of their new lives here at CARE. You can become an Adoptive parent to one of the 5 ring-tails. The Adoption donation will be $50 a month to help provide them with food, medical attention and care. Now this is the really exciting part-The first five people who donate $500 before Thanksgiving to help build the enclosure will not only have their donation cover the first year of their adoption, but will also get to name their Lemur! How cool is that? Please contact us if you are interested in adopting and naming a Lemur. We will only be offering this opportunity until Thanksgiving, so don't wait!
We are also looking for help with the following items, if you are interested, please contact Heidi.
Ropes (lots and lots of ropes for climbing and swinging)
Materials for platforms and outside dens
Labor to help construct the enclosure on 11/25
Help building the outside den boxes
Donation of other enrichment items
We are so excited to be able to take in these amazing creatures and can't wait to see how they like their new home, now we just need to build it before they get here!
---