How Antinol is Changing Lives at CARE
Did you know that some of the newer research has indicated that the average life expectancy for tigers in the wild is only eight years? In most cases, wild big cats rarely see their teens. But, with excellent care, things can be very different in captivity. However, with longer life-spans in captivity come additional issues that caregivers need to navigate.
Many of CARE's lions, tigers, leopards, and cougars have already far exceeded average life expectancy for big cats. Currently, CARE's oldest tiger is Selina. She is an amazing 19 years old.  Our oldest tiger ever was Tabby, who lived a glorious 23 years. Tigers are not the only cats who surpass their wild life expectancy at CARE. Momma the lion lived an incredible 24 years. Twenty-one-year-old black leopard Raven is knocking at the door of World Record holder for longevity in her species. CARE not only pushes the upper limits of long life but on quality of life!
We spare no expense in giving simple, yet important, comforts like mattresses, pillows, blankets, televisions, and all the love they desire. Older cats not only need to be healthy, but they also need to be happy.
There are many additional factors that contribute to the success of CARE's geriatric program. The most important factor is our willingness to try new things, constantly researching and always going the extra mile.
Caring for the Elderly
CARE staff, volunteers, and interns give special attention to the elderly. Each individual cat requires a specialized treatment program. This can include specialized enclosures or accommodations to habitats to meet the individual needs of animals. It involves enrichment to make sure that animals are staying mentally and physically active. It also includes diet and medicinal treatments.
Diet is a key factor in longevity and overall well-being. CARE feeds as close to a wild diet as possible. We process our own meat including horses and cows donated by local farmers and ranchers. When livestock owners need an animal to be euthanized due to declining health, injury, or age we will accept the animal and process it for food. The meat is fresh and never frozen. Valuable nutrients are acquired through the hide, meat, bones, and viscera. This diet is also the best for dental health allowing for tearing, shredding, and crushing that is lacking in many other zoologic diets. This all-natural diet is hands down the best possible diet for big cats.
However, a holistic diet alone is not enough to provide optimal care as the cats age. Constant monitoring of their eating habits is necessary. What are they eating? How much are they eating? Has their physical appearance changed? This includes weight gain or loss. What is their emotional status? 
All of these factors are weighed and a diet is formulated…changed… and changed again as they age and their dietary needs vary. CARE's tigers and lions eat large amounts of food every 4 days once they become physically mature until they reach old age (from about 2 to 17 years old). The onset of the geriatric stage can be marked by the loss of muscle mass, weakness, stiffness, and lethargy. Normally glutamine is added to their diet to aid their renal system and allow their body to more easily process proteins and maintain muscle. They continue to eat the same amount of red meat on the fourth day of their feeding cycle, but now we add an additional 10 pounds of chicken leg quarters or chicken breast to their diet on day 2. 
Administration of medications also contributes to a successful geriatric program. We try to use natural medications such as glucosamine for joint care; glutamine for muscle loss and kidney functioning; and bone meal for brittle, aging bones in addition to a balanced vitamin supplement. Sometimes all of this is still not enough. One thing most of the older cats have in common is their intake of daily NSAIDs (nonsteroidal anti-inflammatory drugs), like Meloxicam or steroids, like Prednisone. These medications, while effective in managing inflammation and pain, can have debilitating consequences. Kidney, heart, and liver failure are common side effects of long term NSAID and steroid usage.
Recently, CARE was invited to take part in a clinical trial of an all- natural supplement made from Green-Lipped Mussel from New Zealand for sore joints and inflammation due to aging and arthritis, painful and debilitating de-claw surgeries, and general aches and pain due to wear and tear. The most amazing part is that this product does not cause damage to the heart, liver, and renal system.
Big cats are like smaller house cats in that they are notorious for kidney disease and failure. If Antinol does what it claims, it would be a huge asset to our geriatric program. We would provide the relief the cats need for pain and inflammation without the harmful side effects other treatments may have.
Clinical Trials
After careful consideration, a decision was made to give Antinol a try largely based on its lack of harmful side-effects. We entered the Antinol Mobility Study with Dr. Brian Beale and Dr. Duncan Lascelles. Two big cats were chosen and they were removed from all medications for one awful, grueling month. It was heartbreaking to watch as their mobility levels plummeted, but necessary for objective observation.
Despite years of taking a variety of NSAIDs and steroids, along with our regular geriatric protocol of supplemental vitamins and minerals, Kannapalli (19) had difficulty walking. In his prime, Kannapalli was one of the largest and strongest male tigers we have seen, but he had lost considerable muscle tone and weight over the past two years.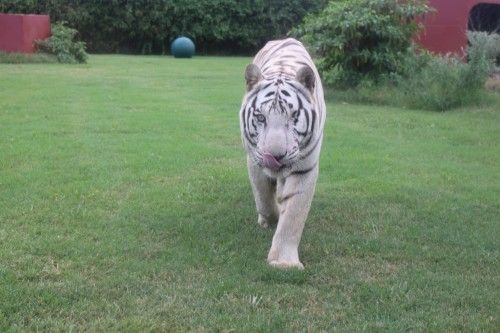 Selina (18) is a de-clawed, female tiger.  She has experienced considerable pain as she has aged due to her de-claw surgery.  Recently she has experienced very limited mobility as seen in in her video. Selina has also been taking NSAIDs for four years, but they have been losing their effectiveness.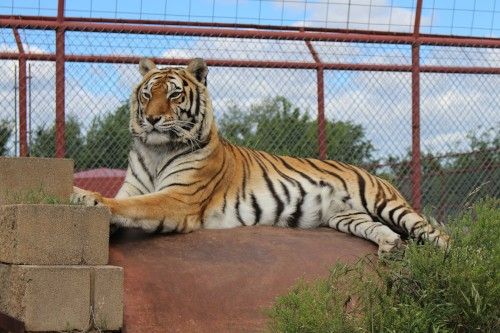 As mentioned, it was disturbing to see the two cats experience pain but hoped it would be worthwhile. We thought that the tigers would feel better with the Antinol and we were even hoping they would return to their health and mobility status before the study. What came next was incredible. We were blown away when we saw Kannapalli and Selina not only returned to their pre-trial mobility but appearing to feel better than they had felt in years. 
Kannapalli had a long-lost pep in his step and was able to climb up on his platforms that we had not seen him do in years. 
As you can see, the changes between day one and 28 are astounding. Kannapalli became free of all other medications and looked amazing for a 19-year-old. 
Sometimes it is hard to notice physical changes over time when you see the animals every day. Those changes can happen little by little. But, when we looked at the difference between Selina's day 1 and day 28 films, it brought us to tears. The change is remarkable.
Based on our first two trial subjects, we knew we had something big. Since the first study, we have added Antinol to our regular geriatric protocol. In the past four months Kannapalli, Selina, Raven, Ace, Kiara, Cassie, and Bonnie have all been placed on this supplement. 
With the remarkable results and the lack of damage to organs, how could there be a downside? For the general public and their domestic pets, this is a dream come true. Each pill, the normal daily dose for a domestic cat or small dog, has a cost of about one dollar. It isn't cheap, but it isn't bad, especially considering the results. When treating a larger tiger like Kannapalli however, you have to administer a dosage of 5-6 pills a day. Even a smaller leopard, like Raven, requires 3 pills daily.  
On average, CARE administers $30 of Antinol every day. That is $900 per month and OVER $10,000 per year, a huge cost for a non-profit organization that has an abundance of other expenses already. So we put the word out to our CARE donors and the response has been amazing. Within a week over six months of Antinol was donated. Things couldn't get better…right?
Well, it did get better!
Now for the really awesome part. The makers of Antinol heard about our amazing results in the Beale/Lascelles study and just donated 20,000 pills to CARE!  At this point, that supply will last us approximately two years.
This company is so wonderful and committed to making the lives of our animal friends comfortable. It seems surreal that the company that has already allowed so many of the CARE big cats the dignity to age without pain has raised the bar even higher by giving even more than we could have expected.
Antinol has literally helped change the lives of our elderly big cats here at CARE, and we could not be more appreciative. The one thing we can do to show our gratitude is to sing their praises publicly. If you are interested in seeing how you can integrate Antinol with your geriatric care routine (whether you care for domestic or exotics), please contact your veterinarian.