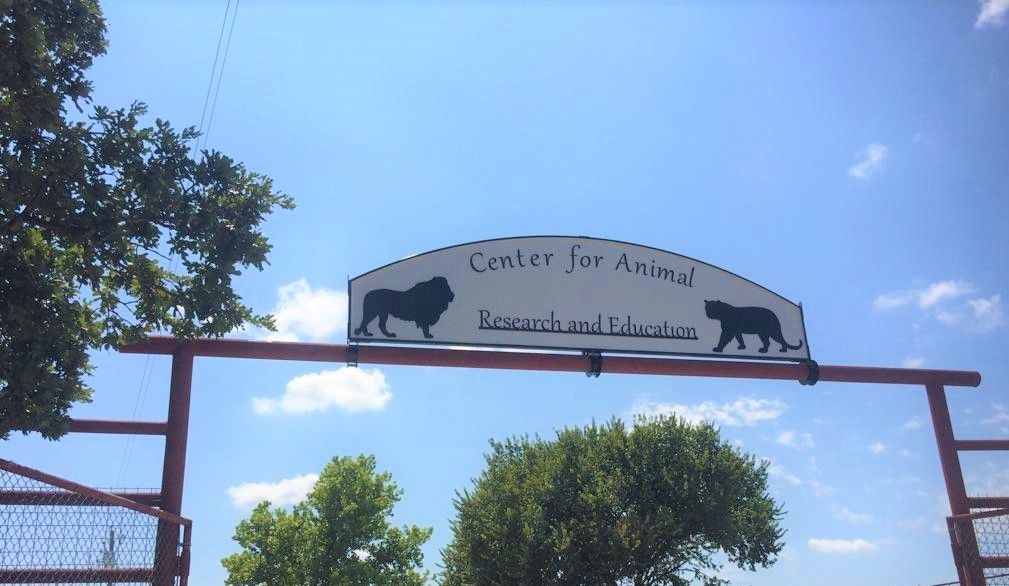 Dear CARE Pride,
I know everyone is wondering how we are doing out here at CARE. None of us ever dreamed the state of the world would exist as it does. It has created its challenges, but I believe CARE is strong and we are getting stronger through this current situation. I would like to tell you all, our supporters, about the steps that we are taking to ensure that the animals are cared for well into the future. 
As you may already know, CARE is now closed to the public. This includes our amazing volunteer team. We discussed the pros and cons over several days and finally, the lemurs helped us make the decision to close. They can get the virus and it would be nearly impossible to care for them all if they exhibited extreme symptoms.  
Please know, ALL the animals are being cared for as well as they always have been. Yes, we are shorthanded but Destiny, Jamison and I have got it covered. The enclosures may take a little longer to clean, but it gets done. Everyone is happy and healthy and we will continue to make sure that they stay that way.
We are brainstorming ideas on how we can continue to allow people to experience CARE, whether through video or in-person. We will continue to actively post on our social media channels so you do not go through CARE withdrawals and the animals can bring you some peace and happiness. I am concerned that people being confined for long periods are going to have a really hard time, so if we can safely find a way to allow people to visit, we will do so. The ideas are still in the early stages, but we will keep you updated.
We have met additional challenges due to the inability to purchase items via our normal outlets. In particular, food items that are now scarce or completely unavailable like chicken and fresh produce. Certain medications and cleaning supplies like bleach are also hard to find. I will address each separately.

What we currently have:
Cleaning supplies: The Kennedy family donated enough cleaning wipes that are necessary for cleaning the lemurs' enclosures to last us several months. I also found a product on amazon that will allow us to make our own bleach from a powder. It is much less expensive than what we had used in the past. It takes up less space and there will not be so many plastic bottles in waste. We now have enough bleach product to last us through the summer.
Water: Our wells are functional, and that is where we get most of the water needed for operations and for the animals. However, we normally purchase bottled water for all the small, young and old animals, and humans. Water is nowhere to be found now. So, we installed reverse osmosis filtration on our kitchen sinks. This is another positive. We went through about 75 gallons of bottled water per week and now we will be saving funds that can be spent elsewhere by filtering our own water.
Dry foods: We have enough Lemur, llama, chicken and dog food to last a month. The llamas and Godzilla have tons of grass from all the rain as well.
Medications: We are so blessed to have a great supply of Antinol. Because Antinol has replaced many of our medications, we had little to be concerned about except for Buspar for Melita and Munchie. We only have enough for a few weeks, but the vet is ordering a 3-month supply.
What we need: 
Chicken: Chicken breasts are almost impossible to find. The only cat that absolutely must have boneless chicken is Raven. We have enough for her for the next couple weeks, and if we have to, we will just cut meat off of the bone for a while.  
Fruits and veggies: The lemurs' diet is heavily supplemented with now hard to find fresh fruits and veggies. We do have their regular dry food, a high-fiber biscuit, so the lemurs will not go hungry…they just won't like it much. Intern Jamison found frozen fruit at Walmart today and we have a stock of canned veggies for emergencies like this. If worse comes to worst, we can feed them leaves from the trees. They love that.  
Our only big concern is for our large carnivores.
For the past 30 years, the big cats have never gone hungry due to the generosity of local farmers, ranchers, and private owners of horses and cows who bring their sick, old, and dying animals to CARE for food. If this supply ended, CARE would be in big trouble. If we have ever been low on food in the past, we could always supplement with chicken. Now, we cannot find even one chicken leg at the local stores. I suppose it never dawned on me that there would be a food shortage like this. But, as I mentioned earlier, some good has come from all of this because CARE is becoming stronger. I realized how unprepared CARE is to a cat-tastrophy (humor is good…even if it is bad humor). It is still imperative that we have continued support from our local community with livestock, but the following steps were taken to help offset any shortage we may have.  
1,000 pounds of ground meat will be delivered on Monday. This is a product that contains additional vitamins needed for the big guys.  
1,000 pounds of chicken leg quarters will be picked up at less than half the price we normally pay. This was a huge find and will decrease costs with our normal food bill into the future.
All the above will be placed in the deep freeze in case of an emergency except for what we need for the cubs and the older cats. But…two thousand pounds of meat will only last CARE one to two weeks with no livestock being donated. This is the nightmare that keeps me up at night. I have seen videos where war and economically ravaged countries have animals starve to death in their enclosures. I never thought it could ever happen in the United States, but I can see it now. I don't believe it will happen at CARE, but I do know we are closer to it now than we have ever been in my lifetime. It has been an eye-opener. However, we are still receiving donations, so we are good at the moment. 
Last, we continue to need financial support in two primary areas.
Our ongoing fundraising for the new enclosure. The tiger cubs have not stopped growing, even when we asked them to. We still very much need these new enclosures completed, so we can give them the appropriate space that they need to thrive. Our fundraiser was set to end this week, but we will be extending it to try and raise the remaining $15,000. We have come this far, we know we can see it through to the end. And we are so incredibly thankful for those that have already given to get us this far. 
General funds. We will always need this, and now more than ever. Through careful planning and a lot of effort, CARE is financially stable at this moment. But in these uncertain times, it is a scary thought that our monthly donations will stop. That is the fear for all non-profits, particularly ones that rely on public funding to continue caring for living creatures. 
We know that the economic fallout from the coronavirus will impact many people. While we do not want to pressure anyone to go without, we will continue to ask you for your support. If you are already donating, whether it is through adoption or sponsorship or through Patreon, we ask you to please continue if you can. If you cannot continue at your current amount, but can still give a little, please do. Every dollar means we can continue to care for the animals.  
I have always been told, "Prepare for the worst and hope for the best".  I believe we will get through this stronger and wiser and more appreciative of those who impact our lives. Thank you, everyone, for hanging in there with us through thick and thin. Please take care of yourself and your loved ones. 

With love,
Heidi Krahn, Executive Director