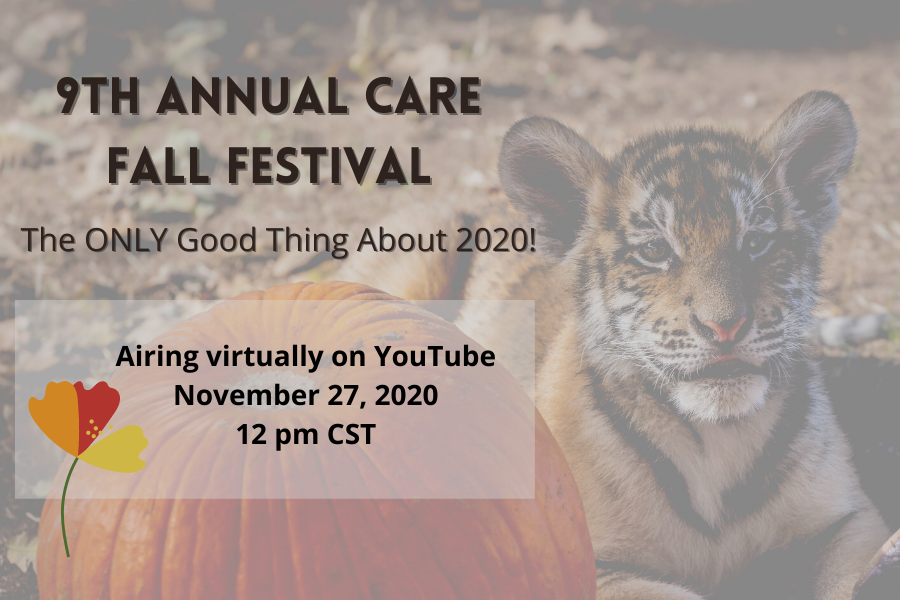 There is no doubt that the way we do a lot of things has changed during the pandemic. But two things stayed the same. First, we still have 50 animals at CARE that continue to need our love and care. Second, we still love to celebrate the fall season! 
Join us on November 27th at 12 pm CST on YouTube for the premier of a CARE Fall Festival event like no other!   
We know this year has been especially hard for many - so we are offering this event completely free to anyone who wants to join. whether you donate or not. 
However, we still have an obligation to take care of the 50 animals that call CARE home and the Fall Festival is typically one of our largest fundraising events of the year. So, if you can give, please give a little extra. 
Donations of any amount are welcome, but we have a few special opportunities to tell you about. You can visit our fundraising page for more information and to make a donation here. 
Event Details
We will be premiering the 2020 Fall Festival Tour on November 27th at 12pm CST on our YouTube channel, CARE Rescue Texas. Make sure to subscribe to our YouTube channel to receive reminders and notifications about the event. 
Even though the tour will be pre-recorded, when you tune in at the premier time, you will be able to watch the whole festival along with everyone else at the same time and join in a live chat with fellow CARE supporters and CARE staff! Don't worry though, if you can't tune in at the scheduled time, you will be able to watch (and re-watch) the event any time you want.  
Watch the animals play with pinatas, pumpkins, and presents and listen in on a fun and educational tour with Derek, Jamie, Destiny, and Heidi! Plus, we have a few surprises up our sleeves for you.   
The best thing about doing a virtual fall festival (other than keeping staff, animals, and visitors safe from the virus) is that everyone can attend, no matter where you are and no matter what your financial situation!  Remember, a donation is not required, but is appreciated.  We hope this Festival brings a much-needed smile to everyone's faces!
We would also like to thank all of our sponsors for this event. They all made it possible for us to offer this event to everyone.
Corporate Sponsors
Enclosure Sponsors
Lindsy Thomas
Laura Werner
Laura Sadtler
Drew Gibson
Joe & Diana Goldesberry
The Ray Family
Beth Trussel
Individual Sponsors
Andrew & Kelli Rottner
Eimear Thornton
Michele Svatos
Julie Maguire
Mary Ely
Nicolina & Cameron Day
Douglas Dodge
Amber Drew
Whitney Kokalis
Mary Clark
Danielle Mills
Tyler Lawton
Chris Dutle
Cherie Austin, Hannah Austin, and Richard Snyder
Melanie Klein
Kelli McConnell
Angelia
Heather Dodge
Kim Swaner
Jessica Goodrich
Lydia and Ben Frederick
Julie Dougherty
Sandra Blum
Sharon Brusturis
Laura Hickey
Melissa Westfall
Barbara Deluca
Kara & Steve Van Duzee
Lisa Kittredge
Corinne and Michael Doncer
and
Chris Nicolson