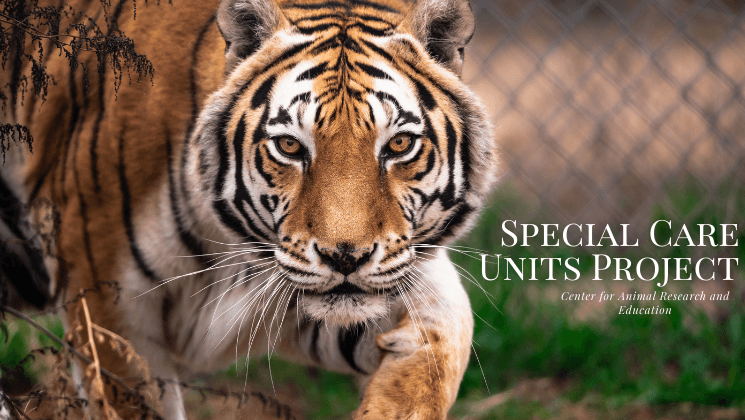 At the beginning of summer 2021, we made a plan to create additional Special CARE Units for five of our big cats that would provide them climate-controlled housing and better long-term care. We were so touched by the outpouring of support. Not only did we reach our goal, we exceeded it! Thank you so much to everyone who contributed. We cannot wait to complete construction and let Noel, Selena, Jakey, Luca, and JP into their new indoor housing for the first time. Learn more about the project below. 
Providing life-time care
Providing life-time care for the animals here means meeting their needs at all stages of life AND making sure that each individual animal has exactly what they need to be healthy and happy throughout their lives. 
Geriatric and special needs populations
Having aging animals and animals that have special needs due to physical or psychological issues presents all kinds of challenges. They are more prone to injury, illness, and are overall more fragile. It is important to make sure they have the accommodations they need to keep them safe and sound. 
What makes CARE special
CARE goes above and beyond to provide individualized care to all of our animals, and how we care for our elderly and special needs animals is what we are most proud of. From the medications and supplements they receive, the enrichment we provide, the veterinary care that is administered, to special accommodations we make in their enclosures and housing - it is all carefully planned to provide them EXACTLY what they need, when they need it. 
Special CARE Units
With your support, we have already built multiple Special CARE Units to meet the needs of our animals. Special CARE Units are indoor areas that incorporate comfort, access to the outdoors, easy observation, climate control, and easy veterinary access. 
Animals at advanced ages like 24 year old leopard Raven, 19 year old cougar Cassie, and 19 year old tigers Allie and Archie all have Special CARE Units to help provide them cozy spaces to protect their fragile bodies. 
New arrival Goliath, a blind and deaf bobcat, also has a Special CARE Unit. He gets soft spaces that he can navigate easily & protection from the elements in severe weather.
Lions Araali & Zuberi have a Special CARE Unit due to their diagnosis with Wobbler's Syndrome when they were cubs. They even get a big screen TV to keep them entertained!
Animals like the lemurs and Godzilla the tortoise also have Special CARE Units that provide heat and protection during the cold months and amenities based on their species-specific needs. 
These Special CARE Units are one of the reasons that all of these animals are thriving, and each space is filled with love. 
Help us build more Special CARE Units!
Our new Special CARE Units project is the biggest one yet! We are preparing to build several spaces for some of our other at-risk animals. This new project will be able to span three separate enclosures and provide comfort, protection, and care to 5 cats - 21 year old tiger Selena, 15 year old tigers JP, Jakey, and Luca, and 10 year old Noel. 
Selena has been priority number one since she is the oldest tiger at CARE. But, because these three enclosures are so near to each other, we can build her indoor area in a way that it can accommodate the neighboring enclosures as well. 
The Special CARE Units will be built with direct access to the large outdoor enclosures so that these cats can stay in the spaces they already call home, but benefit from the extra comforts of these indoor, climate-controlled areas. 
These new Special CARE Units, along with all of the others you have helped us build, will benefit animals for years to come.