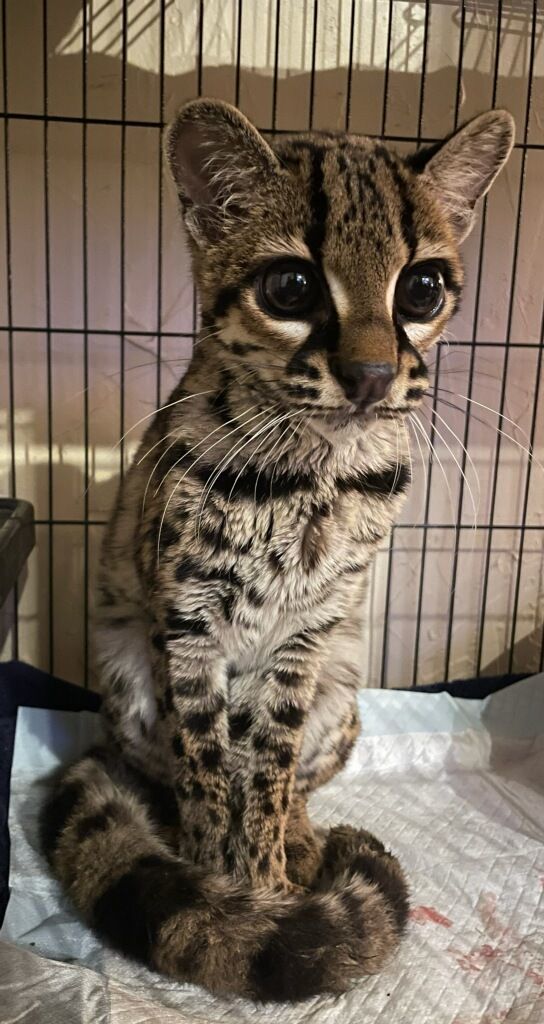 We have some very exciting news! CARE was recently contacted by Wild West Wildlife Rehabilitation
Center (WWWRC), in Amarillo, Texas about a mysterious little creature. The terrified and tiny cat arrived at WWWRC after being found strolling around central Texas and now needs a permanent home!
She weighs a mere 4.5 pounds and is estimated to be around two years old. She is malnourished, had ulcers on her little feet, and sadly has been diagnosed with Feline immunodeficiency virus (FIV). It is possible she was a pet, but even if she was not, she would never be able to be in the wild. Although FIV is not highly contagious, only being transmitted through bites, it would be unethical to return her to an already fragile wild population and risk transmission and her not getting the care that is needed to support her compromised immune system.
This is not CARE's normal rescue! While we do take in some smaller wild cats like bobcats and servals, this is definitely not our typical tiger or mountain lion. And we are sure many of you are asking WHAT IN THE WORLD IS THIS CAT???
We carefully consider the commitment and responsibility in offering a forever home to each animal in need, and this smaller than normal kitty, is no exception. A well thought out decision is critical. And in order to make the best decision on if CARE is the best place for this beautiful tiny creature and if we can give her everything she needs to have the best life in captivity, we first have to know exactly what it is we are dealing with, especially with a cat we have never cared for before. 
After many days speaking with zoos, animal friends, the WWWRC team, and Google, we now believe she is most likely a margay. But, she is so small we think she could also be an oncilla. We decided to put her exact identification on hold until she gets here given that both margay and oncilla are from the same areas and have identical needs. So, we turned to determining what her exact needs would be in terms of habitat, behavior, diet, medical, and general requirements. We can always put our genetics expert friends at the Texas A&M to work identifying exactly what species she is later.
So here are the important considerations that we have had to focus on.
1. Like all cats, she is an obligate carnivore (just like our larger cats) so her diet will not be an issue. 
2. Oncillas and margays live primarily in South American forest tree-tops where they hunt at night for
rodents, birds, lizards, and insects. An outside enclosure that supports a nocturnal lifestyle, is tall and covered to allow her to jump 12 feet straight up, and has plenty of climbing and hiding spots will be necessary. 
3. Managing her stress and supporting her immune system will be critical and will require special accommodations. An attached indoor Special CARE Unit (SCU) that is heated and cooled, and protects her physically and psychologically will be required. Building a new enclosure will be challenging but within CARE's wheelhouse. 
4. Finally, love and attention, should she want it. Anyone who is familiar with CARE knows this will not be an issue.
5. We are also considering options of companionship, but we will leave those details for another day.

After all of these careful considerations, a decision was made…YES! CARE will give this fragile little one a forever home!
We would like to say she is already all settled in at CARE, but we need to prepare for her first and we need your assistance. Here's how you can help Juno…yes, they call her Juno!
We are preparing a temporary winter room for her since it is still cold in Texas. We are converting one of our vet center bedrooms into her very own kitty playground. A large window is being installed
with a wide ledge for Juno to lay on to absorb critical rays of sun. And, her space will need to be filled with tiny cat enrichment. 
Eventually Juno will need her outdoor habitat and indoor SCU with all the bells and whistles that we like to provide at CARE. We have a fundraiser open to help raise the money needed to build her new habitat.
https://www.gofundme.com/f/junos-new-home?utm_source=customer&utm_medium=copy_link&utm_campaign=p_cf+share-flow-1 
Our goal is to pick up Juno from her current caretakers in the next week. We cannot do this without the help of our CARE family. If possible, please consider helping Juno through our Amazon Wishlist and/or donate when we setup the fundraiser for her permanent accommodations.
This is a very special time for us all. Let's bring Juno home!

We will be posting more awesome information about Juno as time goes by. There is not much known about margays or oncillas, but what we do know is absolutely amazing.

A special thank you to Stephanie Diaz and the WWWRC team for entrusting CARE with another precious resident. Bob the bobcat came from the same facility back in November of 2021. It is an honor that they chose CARE as a home for both Bob and Juno.