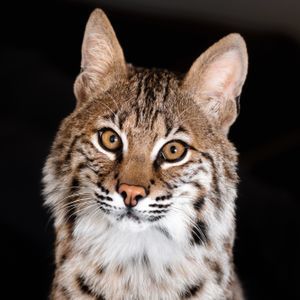 Bob
Sex: Male
Born: March 21, 2021
Loving Adoptive Parents: Jenny Cortese - Madison, WI
Loving Sponsors: AVAILABLE
 
---
Bob arrived at CARE in November of 2021 at around 8 months old. This little bobcat was found in a field with a sibling at about 10 days old and taken to the wonderful team at Wild West Wildlife Rehabilitation Center in Amarillo, TX. Unfortunately, Bob's sibling didn't survive, but they had plans to rehab and release little Bob. However, Bob ended up having a lot of issues that made him unable to be released. 
Bob was diagnosed with congenital hip dysplasia, near-sightedness and FHM (feline hemotrophic mycoplasmosis) that caused severe anemia. He required a blood transfusion from another bobcat, antibiotics, fluids, and round-the-clock care. Thankfully, his caretakers went above and beyond to make sure he recovered. And, once he was on the mend, they began looking for a long-term home for him. 
We are honored to provide Bob with that home, and thankful that the WWWRC team is trusting us with his care. Bob is clear of the FHM and you can hardly tell he has any sight or hip issues at all. He looks fantastic! 
Shortly after Bob's arrival, we decided to introduce him to Bobbie, an older female bobcat that has been with us for year. She seemed like the perfect match being that she is very calm and gentle. It was nerve-wracking making the introduction, but it went better than we could have hoped. The two are now living together, and we are so happy that they will both have companionship for many, many years.