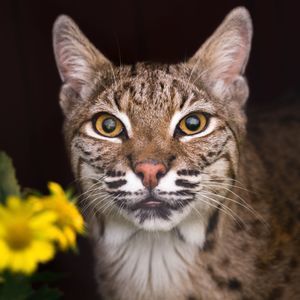 Goliath
Sex: Male
Born: April 8, 2016
Loving Adoptive Parents: Daniel Carrington - Plano, TX
Loving Sponsors: Annie DiMattia - Wilmington, DE; and Angela Sims & Christian Nagy - Dallas, TX
 
---
Goliath is an incredibly special guy. In March of 2021, Goliath was confiscated from a private home where he was being kept as a pet. After temporary placement at the San Antonio Zoo, CARE was asked to give him a permanent place to live. We were warned that the 5 year old bobcat seemed to be severely sight and hearing impaired. 
After picking Goliath up and bringing him back to CARE, he was moved into an enclosure that gave him access to both an indoor area with a soft bed and climate control, and an outdoor area with lots of sunshine and grass. It was incredible how this little guy handled the move and the new environment. Without being able to see or hear what was happening, Goliath remained calm the entire time. 
One of our first priorities was getting Goliath a full veterinary exam including looking at his ears, eyes, x-rays for his declawed paws, and getting a CT scan to check for possible tumors or head trauma that would have caused his lack of sight and hearing. What we found was nothing. No cataracts, no obstructions in his ears, no obvious damage. There are several things that could have caused his loss of sight and hearing, but we may never know what it really was. It could have been a disease, lack of nutrition, genetics, injury, or he could have been born this way. We had so hoped to discover something that we could fix, but so far, we have no answers to his challenges. 
Even though Goliath can't see or hear much, he doesn't let it slow him down one bit or let it dampen his spirit. What we have learned about this incredible cat is that he is not stressed by much and is generally always in a good mood. He loves being outside munching on grass and smelling all of the scents in the air. He also loves sprawling out on his bed indoors and getting visits from his new CAREtakers. He genuinely is excited whenever anyone is near and he learned quickly to identify everyone by scent. He is really brave, and very curious.
We look forward to many years of getting to know Goliath better and providing the best possible care we can give him. He stole each and every one of our hearts at first sight!