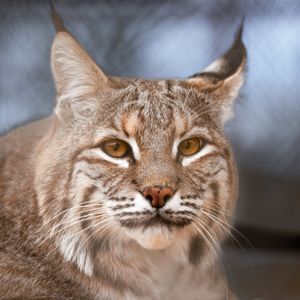 Max
Sex: Male
Born: February 2015
Loving Adoptive Parents: Adam Melton & Laura Steck - Laurel, MD
Loving Sponsor: Connar Moore - Navarre, FL
---
In mid-July, 2015 CARE took a little road-trip to pick up a new resident...Max the bobcat!
Max's story is unfortunately a common one for young bobcats. His mother was shot and a game warden found him orphaned. He took him in, and then relocated him to a wildlife refuge. The refuge asked us if we could give him a permanent home. By this time he was too habituated to people to be rehabbed and released.
He arrived at CARE late at night and the next morning got a clean bill of health from Dr. Bill. Now it was time to see if he and Mia could be friends. With him being twice the size of our first bobcat rescue, we hoped that their youth would make the introduction go smoothly. We could not have asked for a better outcome, it was love at first sight! In their first few days together they spent their time cuddled up for naps and staying up all night long to play. 
Max is very protective of Mia, and Mia is in love with him. They chat all the time, calling to each other with chirps and gurgles and comforting each other with the loudest purrs you will ever hear! It is a beautiful thing to see them with each other, knowing that despite their hardships in the early stages of life, they now have each other.
And, there may not be another animal at CARE that loves to play and get new enrichment more than Max. He is super active, playful, and curious and is always up for some fun!