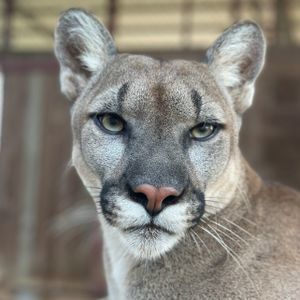 Ruby
Sex: Female
Born: 2018
Loving Adoptive Parents: Lara, Jason, Cammie and Cassie Bunting - Zanesville, OH
Loving Sponsors: Christina Biagetti - Idaho Falls, ID
---
Ruby is a teeny little cougar - all of 75 pounds! And she is an absolute sweetheart! In May of 2021, CARE was asked to provide a home to both Ruby and a male cougar, Will. They were living at a facility that was being closed down, and since we had the space, we were happy to offer assistance in providing them a home. 
Ruby made herself at home immediately. She thought all of the ramps and platforms and toys in her new enclosure were the best thing ever! She is always purring, always ready to say hi to her CAREtakers, and loves to have fun. 
She has made fast friends with one of her neighbors, a lynx named Malika. The two can usually be found zooming around their enclosures and chasing each other up their ramps in the evenings. We just adore this tiny but mighty little cougar, she is absolutely perfect!