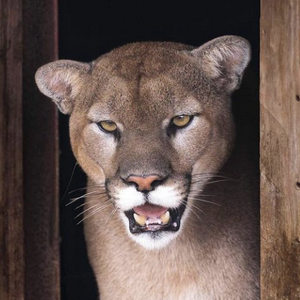 Will
Sex: Male
Born: 2009 - 2011
Loving Adoptive Parent: Jamie Reed - Dallas, TX and Kristin and Chris Warwick - Heath, TX
Loving Sponsors: Jill Felker - Lexington, KY, and Lydia Frederick - Owosso, MI
---
Will came to CARE in May of 2021 along with a female cougar, Ruby. Will and Ruby both came from a facility that was being closed down. We were happy to be able to offer them a forever home here, but little did we know of the challenges that Will would present. 
While Ruby didn't miss a beat in coming here, Will did not fare as well. It was an incredibly difficult first few days for him. Upon arrival, we very quickly realized that Will had some concerning neurological issues. It became obvious immediately that he could not navigate the ramps and platforms that most of our cougars - who are naturally amazing climbers - have. So, his enclosure had to be adapted to make it safe for him. 
When he arrived, he also had a broken tail, which due to the severe stress the move had on him led to him self-mutilating. He was very thin, and was obviously having a very hard time.
In addition to the 24 hour care and supervision that he was given in the first few days, he also went in to see our vet to be neutered, to have his tail injury addressed, for bloodwork, and for a CT scan. Thankfully everything came back normal, but that didn't help in providing any answers on what exactly we were dealing with neurologically. 
In the months after his arrival, it was our priority to improve Will's situation. Will would not eat if his food was just left for him, so we began hand feeding him (with tongs for safety) which worked very well in helping him gain much needed weight. We also discovered that he is deaf, but that does not seem to bother him. The neurological issues and how he would become severely agitated by seemingly random things, were much more challenging. But, the improvement we have seen has been tremendous. We continue to find ways to enrich Will's environment without him posing a danger to himself. He has new low platforms that he loves, but aren't too high for him to fall and hurt himself. We have learned he loves water - not that usual for a mountain lion - so he was given a small pool to play and lounge in. And, he absolutely LOVES to play - with toys, with neighbors, with his CAREtakers. Under all the fear and stress when he first came, is a loving, playful, and sweet mountain who just needs some extra special care.