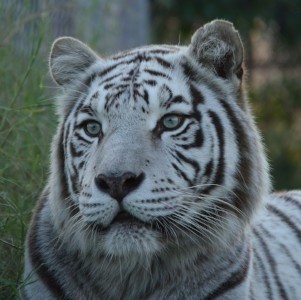 Acari
July 16, 2001 - September 3, 2017
Loving Adoptive Parent: Kay Deli – Sacramento, CA
Loving Sponsors: Melanie Piccolo - Depew, NY and Imogen Hopper - Langley, New South Wales (AUS)
---
It is always difficult to share sad news. This weekend, the decision was made to have Acari euthanized. We know many people were not aware something was wrong, we had remained hopeful that it was not what we thought it was.
Acari had a malignant mass near her eye removed in 2015/2016, then another this past May by her ear. A few weeks ago the side of her face where the last mass was removed got incredibly swollen and infected. Dr. Bill worked on her and was treating her aggressively with antibiotics in case it was not cancer, as none was showing on the outside, but her condition did not improve. When he visited yesterday, it became obvious that it was time to end her suffering. During the necropsy we discovered a mass in her lymph node in her face and she had advanced cancer in her lungs. It was the right decision to let her go. Even though she lived a very happy 16 years with us,cancer always makes it feel like it was not long enough. That is why we are so involved in cancer research. Acari's masses, just like those of every cat with cancer here, are sent to our research partners for study - in the hopes that one day we can eradicate this disease for animals and humans alike. In that way, the precious cats that we have said good-bye to can live on.
We will miss Acari greatly. She was, without a doubt, one of a kind.