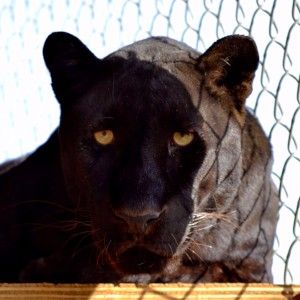 Ace
July 14,1996 - September 24, 2018
Loving Adoptive Parents: Tez & Kitt Chrispen - La Ronge, Saskatchewan Canada;  Matt Larsen - Egg Harbor, WI, and Crystal and Daniel McKinney - Columbia, MD
Loving Sponsors: Kathy Kelehan - Los Angeles, CA and Aaron and Rebecca Klopp - Canyon Lake, TX (In Memory of Merlin)
---
From Heidi Krahn, Founder and Executive Director...
Ace has always been a wild soul.  From an early age he and his best pal, Spotty, were inseparable.  Spotty was the loving and affectionate one and Ace the mischievous and stubborn one.  Ace didn't take a bottle well.  He didn't lock up for cleaning well.  Ace didn't like to be disturbed for anything trivial like affection or love.  He mostly wanted to do what he wanted to do when he wanted to do it.  This was the Ace that many people would see.
Through the years Ace also was known for his spicy attitude he had with Derek and some of the other men at CARE.  The love/hate relationship the two had was something to see. The harder people tried to get close to sweet Ace the grumpier he would get. He would often meet people at the fence with a hiss or even a low growl.  
The Ace I knew was different.  He was always quite loving and sweet.  Choosing a time that was good for him was of upmost importance.  He liked to smell the palm of your hand and even give it a lick on occasion.  On rare occasions I would find myself lucky enough to receive a little kiss from the big man.
He had eyes that would peer into your soul. It was like he was always trying to figure out who you are and what you were all about.
I have been very fortunate to have amazing relationships with the cats at CARE. The moments I cherish the most are those ones I had to work extra hard for. Because of this, Ace fills many of my protected and most precious memories.
From the time when Ace was a little cub eating most of the furniture in my house with Spotty and Serena, to the day he brought me and my best friend Melanie together, to the comical moments when my husband tried fruitlessly to gain Ace's affection, to the final day of life when he gave me just one last rare kiss…you have been loved.  Not just by me but by so many.  
Ace's Bio
Ace is a black leopard and currently the oldest animal at CARE! The oldest leopard recorded in captivity was 24 years old. Ace, born in 1996, isn't too far away and still remarkably healthy and strong considering his geriatric status.
Ace, like most leopards, loves to hang out in the highest spot of his enclosure - looking across the vast Texas landscape and getting a birds-eye-view of his surroundings. Because of his advanced age, he has recently been given a soft mattress in his enclosure which is now his second favorite spot to relax.
Ace can be an aloof cat and doesn't care much for most people's attention, and he's especially not very fond of men. But, occasionally he chooses people that he loves and is an amazingly loyal friend them. He can be downright loving when his favorite female CAREtakers come around and will gaze at them with adoring eyes give lots of rubs against the fence in greeting. From a cat that usually doesn't demonstrate a lot of emotion, it is a pretty big deal. 
In the summer of 2017, Ace appeared on the Nat Geo Wild show "Animal ER" to be treated for an eye and ear condition. He is doing much better after treatment. You can watch the Season 2, Episode 5 "Blindsided" here and the CARE behind the scenes video here.