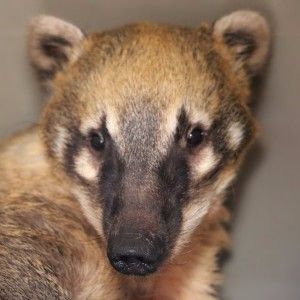 Bindi
2005 - August 11, 2020
Loving Adoptive Parent: Lisa Kittredge - Addison, TX
Loving Sponsors:  Kenzi Trezise - Madison, WI
---
It is always so hard to say good-bye, especially to one as special as Bindi.
On the morning of August 11th, 2020 the CARE family had to say farewell to our little coati. Bindi was 15 years old, quite an advanced age for a coati. She had not been quite herself for a few days, and the night before we noticed her breathing sounded labored. When we took her into the vet first thing in the morning, we were informed that she had congestive heart failure. It was the kindest thing to let her go in peace.
Bindi lived half her life with us at CARE and we did our best to make her happy and comfortable. Bindi painted, played, slept, and squeaked her way into many hearts. A special thanks to her adoptive parent Lisa and her sponsor Kenzie, all of the volunteers and interns over the years who made a point to spend extra time with her (as a former pet, Bindi very much enjoyed human companionship), and our Operations Director, Destiny for going above and beyond making Bindi's final years as enjoyable as possible. We are going to miss this little girl - squeaks, stink and all! 
Bindi's Bio
Bindi arrived at CARE in March, 2013. She had come from a family here in Texas, but her owner could no longer keep her and contacted CARE to provide this little coati a home. 
Bindi was built a nice, natural enclosure right next the CARE's ring-tail lemur troop. But since she spent her first 8 years as a pet, and is used to being near people, she much prefers a spot in an indoor/outdoor Vet Center enclosure. Up there, she gets to see everything going on and gets lots of interaction with the interns and volunteers. When it is cold out (to her, anything less than 80 degrees is cold) you will find her snuggled up in blankets inside her heated igloo. She will pop her head out to get some scratches or her favorite treats.