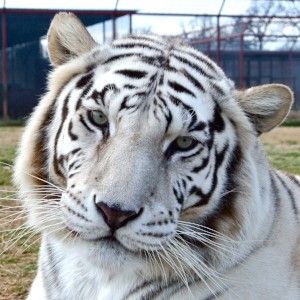 Bonnie
November 15, 2001 - January 28, 2019
Loving Adoptive Parents: Kara & Steve Van Duzee – Dallas, TX
Loving Sponsors: Amanda Weller - Maplewood, MN; Frederick L. Kingsbury - Beaumont, TX; and Ron & Kim Hein – Ft. Worth, TX
---
Bonnie was such a special tiger. She was petite, feminine, but was able to keep up with the big boys Clyde, Levi, and Solano whom she lived with for years. 
Bonnie always was up for a visit, gave out snuffles generously, and was sure to make you laugh. 
We will miss her horribly, but are so grateful we were able to spend so many wonderful years with this sweet girl. 
Bonnie's Bio:
Bonnie is one of the smallest and most feminine tigers at CARE, but makes up for her size in heart. Bonnie and Clyde, her brother, were a prizefighters prize. Like many exotic pet owners, when the novelty and money runs out a new home must be found and CARE will always provide her with the home she deserves.
Bonnie has lived with some of the largest males at CARE and has always held her own and has never been overshadowed. But, she has a sweet spirit and always gives a welcoming snuffle to her CAREtakers.