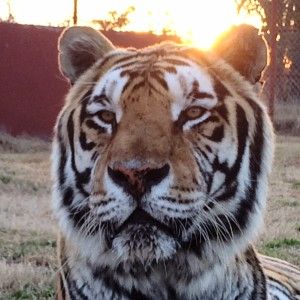 Chompers
July 17, 1999 - June 26, 2018
Loving Adoptive Parents: David, Miki, Ashley & Kari Spicer – Ft. Worth, TX and Bob & Cary Harty – Bothell, W
Loving Sponsors: Noah and Andrew Massman-Hall - Plano, TX
---
Working at CARE, you'll always love every animal that is fortunate enough to call CARE home, but there are some that grab your heart more than others.
Before I interned at CARE, I spent two weeks volunteering there. In those two weeks, Chompers had stolen a piece of my heart that will always be his. What wasn't to love about him? If you were to ask me, and probably anyone else who has worked with him, he was absolutely perfect. Chompers had one of the most beautiful souls I have ever met. He loved everyone, and everything. He was big in size, but had the personality of a butterfly. And his eyes, he had the kindest eyes. Truthfully, I could stare at them for hours.
When I found out that I would be interning at CARE, I was excited to be back there to work, but I was even more excited to see Chompers again. During that summer, I spent any free time I had with him. He showered me with "snuffles", and I did the same. For being so big, Chompers had the softest little "snuffles". Those "snuffles" just showed how sweet in nature this big boy really was. My favorite moments were when we would just lay in the shade together. It was silent, it was peaceful, it was perfect. I cherished every moment I spent with him.
Chompers had a silly side to him too, though. The only thing he was aggressive with were his water buckets. Whenever we filled up his water bucket, he would come on over and start to chomp down and poke holes in it. You would have to distract that guy by spraying him with water to cool him down, or anything else you could think of. He was relentless with those buckets, but I loved it (even though we had to keep replacing his buckets).
When my internship came to an end, I made sure to make visits whenever I had the opportunity. No matter how long I was gone, Chompers was always happy to see me. He'd smoosh his entire body on the fence and then the "snuffles" would begin.
Chompers was getting older, and I knew that. He would have his weak moments, but he would always bounce back. But this time around, he was too tired. When I visited in April, I was told that he was getting slow and didn't get up much anymore. Heidi warned me that there was a chance that he wouldn't come over to the fence when I called him, so that's what I prepared myself for. Chompers surprised me though. I walked down to his enclosure, and that sweet boy heard me call for him. He walked over to the fence and lied down right next to me. I cried. I'd like to think that he "knew" that this was his goodbye to me, and I am so thankful to have had that last moment with him. If I were to have a last memory with him, that's what I would have chosen. When I left CARE that day, I told him over and over again how much I loved him while I held back tears. I knew that his time was coming to an end, but I was hoping he would hold on a little longer until the next time I visited. When I got the call from Heidi that it was time, all the emotions flooded from my heart through to my entire body. Though I wish that I were able to fly out there to see him one last time, I am so grateful that Heidi video called me so that I could say goodbye to my sweet boy one more time.
Chompers has touched the hearts of many people during his time; even the hearts of those who have not had the chance to meet him. I am so happy that he isn't tired or in pain anymore, but I'll miss feeling his fur while I gave him scratches through the fence, getting sprayed in the face from his "snuffles" (gross, I know), and looking into those big beautiful eyes. Chompers' spirit taught me to love all, be kind to all, and to always stay strong. I will never forget my sweet, gorilla-head boy.
I love you, sweet boy. We all do.  
-Written by Melanie (Moe) Quain, Intern Graduate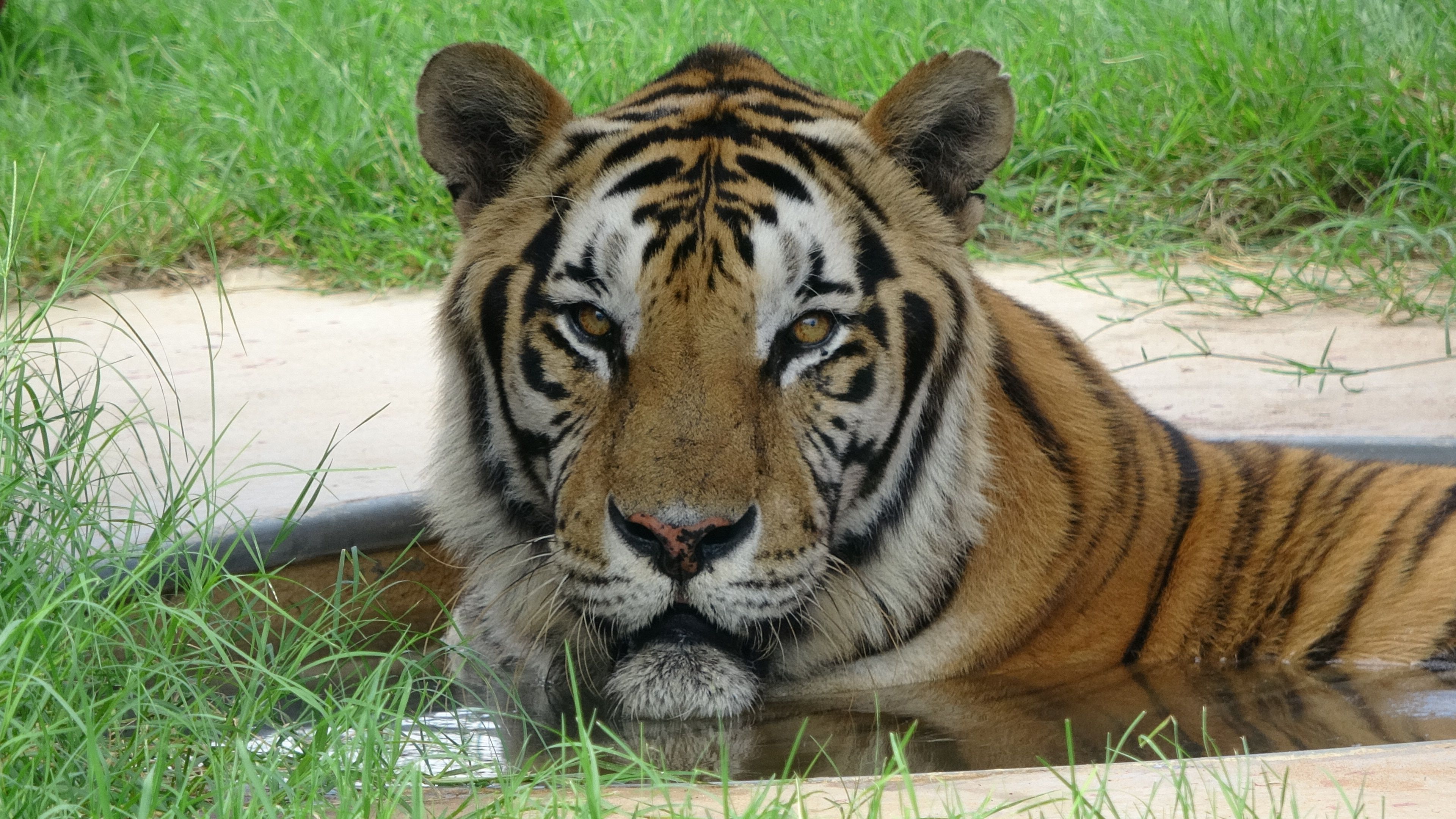 Chompers' Bio
Chompers is CARE's Gentle Giant. He is one of the largest Big Cats at the sanctuary. His weight in the winter tops out at nearly 700 pounds. His gigantic teeth and dark black stripes are intimidating, but he has the spirit of a butterfly.  He gets along well with others, animal and human.