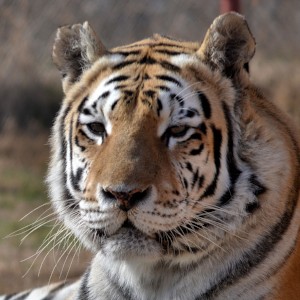 Elley
December 10, 1997 - November 6, 2014
Loving Adoptive Parent: Harold A. Frey – Paradise, TX
---
Elley and her sister, Jezzabell, were nearly identical and have been together their entire lives living with a male white tiger called Zeus. Elley passed away a month before her 17th birthday from natural causes.
Elley loved to play with the water hose. It would make her day when she was given a cool shower in the evening after a hot day. She would roll around on the grass and open her mouth for you to pour water into it.
One of the highlights of CARE's feeding times was Elley doing what we called the "hoppy dance". She, with the grace and strength of a ballerina, would hop on her hind legs across the enclosure in anticipation of being fed. The more you would clap your hand and say "hoppy…hoppy…hoppy" the more she would dance. It was amazing to watch her. We will miss her, but we know she had a wonderful life with her long-time companions Zeus and Jezzabell.