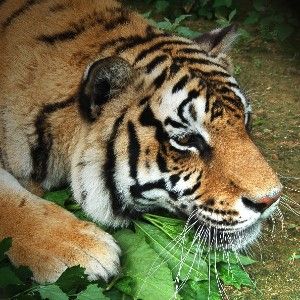 Kira
April 1996 – August 24, 2011
Loving Adoptive Parent: Rose Redmond
---
Twelve years ago our organization lost its first tiger. I cried for hours that day. That night my then 2 year old daughter, Destiny, crawled into bed with me, put her arm around my neck and said, "Mommy why do you cry?"
I told her, "Gabby died. It makes me very sad because I will miss her".
She looked at me with absolute sweet innocence in her beautiful eyes and asked the following question- "Mommy, when tigers die and go to heaven do they get white wings or stripedy ones?"
Those beautiful words have stayed close to my heart for the past 10 years, and every time we lose one of our beautiful babies, the words come back to help ease the pain of loss.
Yesterday afternoon CARE tragically lost one of its most beloved animals, Kira, to rapid kidney failure. Kira was one of the most beautiful creatures I had ever experienced. She was the largest female tiger I had ever seen, and yet for all her size and imposing figure, she was as gentle as a kitten. She loved to hold hands/paws, and she would lie on top of her house and press her feet up against the fence so you could touch them. She was unquestionably the least aggressive tiger at CARE, and the personal favorite of too many people to count. She had a wonderfully unique way about her, and if you ever met her in person you would understand what I mean. She had eyes which could pierce your heart, and she was always good for a 'hello'. She truly had an overwhelming presence built of love, peace, and affection.
During the last days of her life, she was surrounded with the love of those in her human family. We kept near-constant 24-hour vigilance; quietly monitoring her condition, keeping her comfortable, and soothing her with a soft-spoken word or a gentle scratch behind the ears. Although she was 15 years old (Grandma-age for a tiger) her sudden decline and death came as a tremendous shock. She was always so hearty and healthy. Throughout her life she had never been sick or showed signs of aging. She looked just as she did when she was 2 years old- beautiful and strong. I guess we should all be so lucky to age as gracefully as she did (which was seemingly nonexistent).
Kira's adoptive mom wrote to me, "A great heart is silent. The earth is a poorer place", and I couldn't have said it better. I feel everyone who knew Kira was better for it. She was a bright light at CARE. Her spirit will continue to live through those who were blessed by her presence. For those of you who have eyes filled with tears and a heart heavy with loss, just remember… there is now a tiger in heaven with perfect "stripedy" wings.
-Heidi