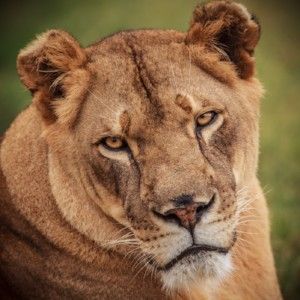 Layla
August 5, 2003 - February 2, 2019
Loving Adoptive Parent: Stephanie McCollum - Paradise, TX
Loving Sponsor: Kerri Porter - Knoxville, TN
---
From Adoptive Mom, Stephanie McCollum...
"Until one has loved an animal, a part of one's soul remains unawakened." –Anatole France

Visiting CARE as a family on my sister's birthday in November 2013, little did I know how our lives would change.  A passion and a genuine love for big cats was fostered. 

Volunteering and adoption became a big part of our hearts. My sister Rachel adopted the one-eyed beauty, Savanna. On January 1, 2014, I adopted Flash, a magnificent white tiger. We also began volunteering at CARE to help with chores. In early 2015, Layla and her partner, Sampson, were both available for adoption. In addition to our first "children," I adopted Layla, and Rachel adopted Sampson. The joy they brought was priceless. As the months passed, I realized she was the subservient, devoted partner to Sam. In order to give the two treats, Rachel and I went together so that they could share the attention—otherwise he would dominate the visit. Understand, he was not mean; he just had a dominant personality and liked to attract the attention himself; she was more passive. 
As Sampson declined, we worried about how Layla would take his passing. In June 2015, we mourned his loss, missing his vivacious personality. Not only did we mourn, but Layla did as well. Shortly after, Heidi told me that Layla was not eating and refused to leave her tower. She asked if I would come to see if I could get her to respond. I brought in treats and found a chair. Sitting beside her enclosure, calling to my beautiful girl, she refused. She would look at me, turn her body, and position herself so that she did not have to see. I persisted. I told her how much I loved her and that I was not leaving until she came down. Begrudgingly, after almost two hours, she slowly stood up, jumped down, and greeted me. She crooned her sorrows about all her struggles … I listened lovingly to her. From that moment forward, Layla greeted me with her fence rub, expectant eyes, and crooning. 
Life progresses and struggles arise. As time marched on, Flash passed on April 24, 2017. Also, during this time, my father was diagnosed with Lewybodies, a combination of Parkinson's and Alzheimer's. Through it all, Layla paid it back … she was the one to patiently listen to my tears and woes. When I would pull into the sanctuary, I would exit the car calling, "Layla--where is the prettiest girl in the whole place?" She always waited expectantly at her corner. In retrospect, those visits will be treasured forever in my heart. 
Over time, the interns and other adoptive parents learned not to come near when I visited Layla as she possessively and jealously guarded the visits. Whether she thought they were going to take her treats or whether she did not want to share the attention, she would growl at the "interlopers."  At moments like this, we could see the ferocity of a big cat.
In December 2018, Dad passed. During my father's decline, I witnessed and experienced the pain, anger, and frustration with loss of self, mobility, and life. My depression was debilitating. Rather than reaching out to my precious friend, I withdrew. I now deeply regret this. 
On Thursday, January 24, I got a dreaded call. Layla was not acting normal. Rachel and I went to CARE. I tried to convince her to leave her cave to visit. She only opened her eyes but refused to visit at the fence. This was definitely abnormal. However, the next day, Layla tried to pull through.  Since Layla was treated with steroids and was not in pain, Heidi made the correct decision as she always does with the precious cats to treat her and give Layla a few more days to see if she could recover fully on her own. I went each evening since the initial call to be there with her. She ate the food I brought, and she greeted me at the fence each day. Watching Layla over this week, I learned a valuable life-lesson. Rather than being angry or resentful for her state, ironically, she seemed so peaceful and comfortable. She would croon and happily greet me with her large, gentle, golden eyes. In fact, she even favorably allowed other visitors at the same time: the precious CARE "family members." Layla was living in the moment and enjoying the attention.  She taught me that there are other ways to respond to life's tragedies. Layla lived gracefully despite her situation.
When Layla did not fully recuperate, Heidi and I discussed the fact that we love her too much for her not to have a fully functioning body. While we hear stories of dogs who can be fitted with a mode of travel due to paralysis of their bodies, this is not feasible with a large cat. They are not domestic animals. 
On Saturday, February 2, 2019, our beautiful and precious girl was peacefully put to rest. Layla now can romp in green fields with Sampson. Our hearts are broken, the hole is deep, and the pain is great, but I would not trade the once-in-a-lifetime relationship I had with this magnificent soul. I hope, if the rainbow bridge is real, that she will greet me when I cross over. 
"'Tis better to have loved and lost
Than never to have loved at all." –Alfred Lord Tennyson
 
Layla's Bio
Layla is a stunning and HUGE African lioness who found a permanent home at CARE after extensive travel with her previous owners. Layla spent most of her life here at CARE living with two tigresses, Sydney and Rasa. For many who visited CARE it was an odd, yet beautiful sight to see these two amazing species living in harmony, well… for the most part anyway. Instinctively lions are more dominate than tigers and this trait sometimes showed in Layla. She would become quite the diva and always wanted her way and this caused a little trouble with the other ladies. For the most part Layla and tigers were great friends and enjoyed each other's company, although we all knew she would enjoy the company of Sampson (big male lion) much more.
In 2011 Sampson's elderly mate, Sprinkles, passed away. It was our chance to move the younger Layla in with another of her kind. It was love at first site! Unfortunately, after four years together, Sampson passed away. Layla was moved back to an enclosure near her old friends Sydney and Rasa and all the staff and volunteers make sure she gets plenty of visits and love so she doesn't feel alone.