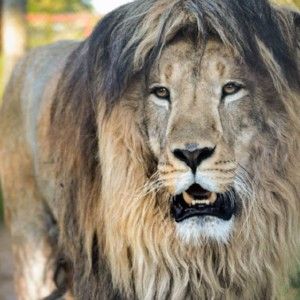 Mwali
February 27, 2012 - June 30, 2017
Loving Adoptive Parents: Gary, Debbie, Alexandra, and Justin Valdata – TX
Loving Sponsor: Jaisi Jiles - Anchor, IL
---
When 5 year old lion Mwali passed away suddenly and unexpectedly, the loss that CARE experienced was overwhelming...and so was the outpouring of love from everyone whom Mwali had touched in his young life. Because of how many people who were deeply impacted by him and his death, we could not just tell one story to memorialize Wali. We chose to include many stories from the people who worked with Mwali and knew him best. The below intern graduates, volunteers, board members, and CARE staff all took to social media following the announcement of Mwali's passing and posted their #MwaliMemories in an effort to come together from wherever they were to remember one of CARE's most iconic and lovable animals who left us far too soon. 
From Heidi:
I can hardly write through the tears. I can hardly breathe because every organ in my body is constricting in pain. It is hard to think because my brain is overwhelmed with memories. I don't want to be here. I don't want to be writing this post.  This is so surreal.
Our beautiful Mwali has passed from this world. There are absolutely no words that I can say that can express the emptiness in the CARE family today. Mwali lay down to rest Friday evening and never woke up Saturday. There was no indication of illness. He had been eating well.  A full necropsy was performed and preliminary indications are that he had deformities in his heart, gallbladder, and liver. A full report will be received in the next few weeks.
Please keep Noel and the entire CARE family in your thoughts and prayers. This is a tragic loss for us all. 
Finally, I would like to thank all of you who follow and support CARE. It is you that help keep us going through times like this.  It is you that help give us the strength to continue doing what we do. I know many of you will feel loss and wonder why something so horrible could happen to such a young, beautiful lion. I know many of you will feel the horrific emptiness and pain that we do.  My heart goes out to you all. Thank you for being there though the good and the bad.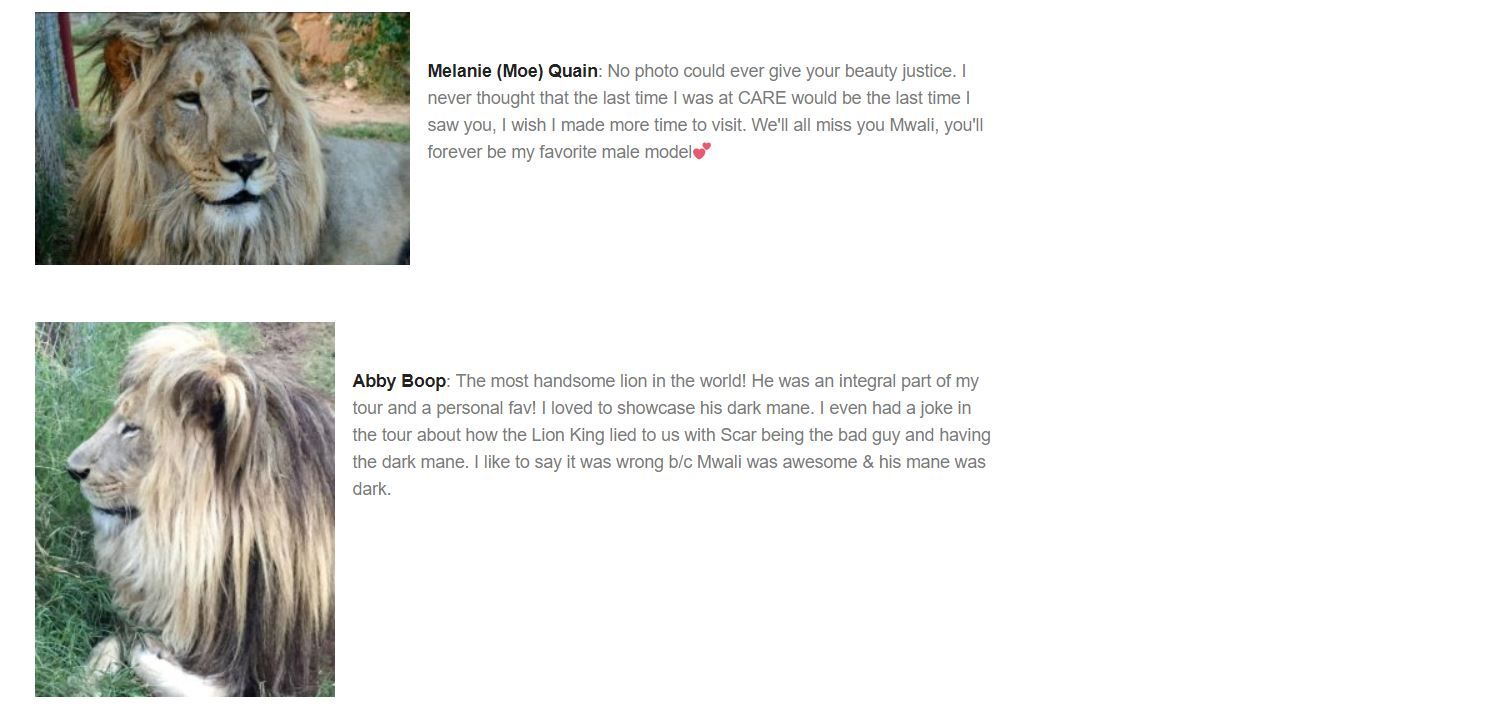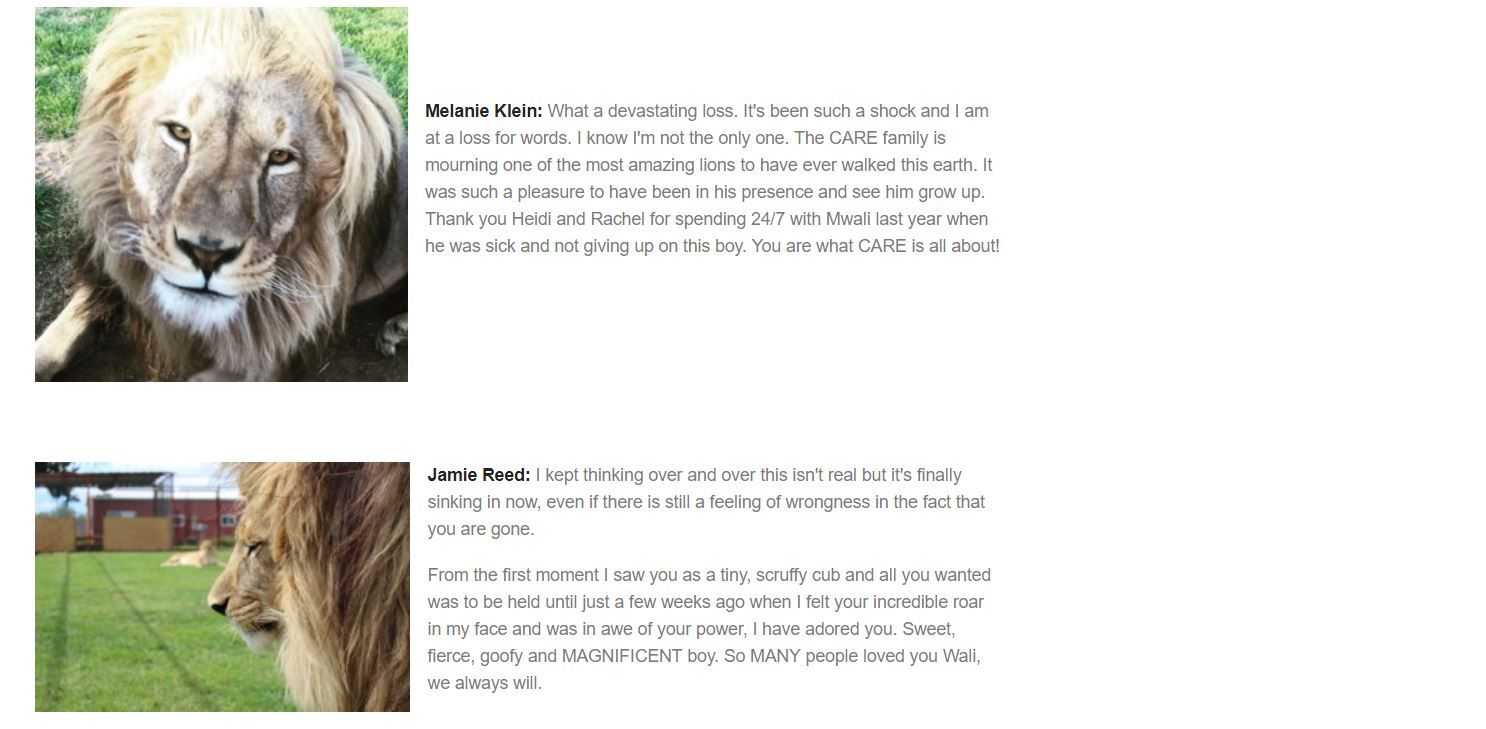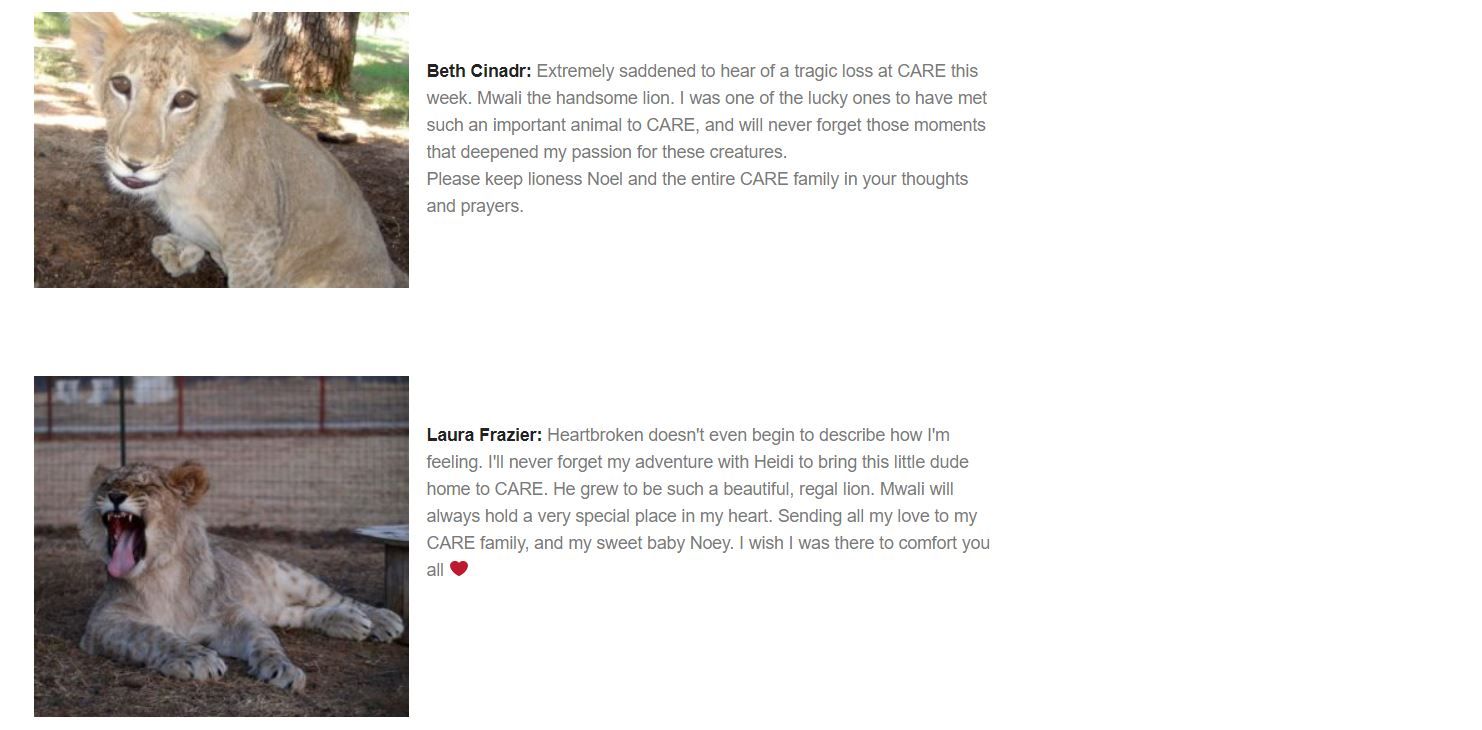 Mwali's Story:

Mwali (Muh-wa-Lee, named 'Thor' at the time) was only two months younger than our baby Noel when we were contacted and told that he was in need of a home. What a perfect match! Both lion cubs were in desperate need of the companionship that they would provide to one another as they grew up. Heidi, CARE's Executive Director, drove all the way from Texas to Indiana to pick up the new baby. He was fuzzy, cute, and most importantly, he was a SWEETHEART- which is such a relief when you are introducing new human caretakers into the equation.
Bringing the new little guy back home to CARE was a joyous yet nerve-wracking experience. He was good with people, but would he be good with Noel? A person can guess and estimate the outcome of introducing two cats all they want, but the truth is no one knows what will happen until they are put together.
Introducing big cats is a delicate thing even when they are babies. If they don't like each other, for whatever reason, there is very little a human caretaker can do to remedy the situation. Taking in Mwali was a bit of a gamble, so the CARE staff were naturally a little nervous when the big moment of introduction came. Mwali ('Wali' for short) was placed on one side of a secured fence, and Noel was placed on the other. What followed could only be described as unbearable cuteness. Noel started acting like a blushing school girl. She hid behind the legs of the directors, tilting her head and making little 'mauw!' sounds at the handsome little boy. She would look at Wali, make a shy noise, then look up at the directors, make a noise, then look back at Wali and make another noise. It was precious!
Feeling that the last major hurdle was crossed, the directors opened the gate separating the two, and they did spectacular! Aside from a few instances of one telling the other to 'please remove yourself from my personal space at this very moment', they were very sweet to each other. From that moment on they began their journey of trust and togetherness and are an inseparable pair.
Mwali has grown into an incredibly impressive lion. He has unusual coloring and a magnificent mane (really, he has rock star hair)! He is just stunning and loves his Noel more than anything.