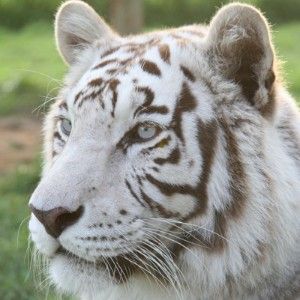 Princess
November 23, 1996 - June 19, 2013
Loving Adoptive Parent: John Stanzack
---
I did an internship for C.A.R.E. in the fall of 2010. Although all the cats were awesome in their own way, of course we each had our favorites. Princess, though absolutely gorgeous, was not one of the stand-out cats for any of the three of us interns initially.
Honoring her name, she would often sit in the middle of her enclosure proudly and beautifully, not really caring what anyone else was doing. She also was the only cat at C.A.R.E. that hated getting her morning meds in a meatball and avoided it at all costs. She would rarely come take her meatball and if she did she was so smart she usually would find a way to eat everything but her medication. This made her a very hard cat to get to know. About midway through our internship, Princess became very ill. She had to be moved into the vet clinic and given 24 hour care. Slowly, we were able to get Princess back on her feet. Though this was an exhausting experience, it was also one of the greatest most rewarding experiences of my life. Our time spent nursing her back to health made us form a special bond with Princess unlike any of the other cats at C.A.R.E. Once you got to know Princess and earned her trust, she was easily one of the sweetest and most loving cats and had an awesome personality. No matter how long I would be away from C.A.R.E., Princess would run up to the fence and sit next to me when I came to visit. She always made me feel like she remembered who I was and instantly put a smile on my face every time I saw her. Princess became one of my favorite cats at C.A.R.E. and will always hold a very special place in my heart.
-Written by Intern graduate, April Hensley
We at CARE were very sad to say goodbye to our Princess. She was losing her battle with cancer and her condition & standard of living was rapidly degenerating. It was time to let her go. While we are deeply saddened by this loss, we are continually amazed at the strength and longevity of these animals. Not only did Princess live a long life, but she did so in relative comfort for some time with the cancer inside of her- living far beyond the terminal timetable she was originally given. It is a testament to these animals' strength and spirit, and is something that is truly awe-inspiring. We are honored to have known Princess and we take pride in knowing that she lived peacefully and comfortably during her time at CARE.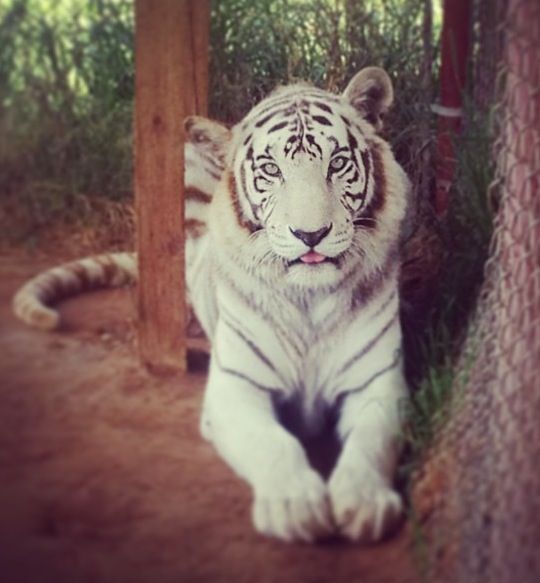 Princess is a beautiful white tiger that has lived in Bridgeport all of her life. She does not have a sad story, except that in a perfect world Princess would have been born in the wild and lived a long life wild and free. As far as a loving home, she could not be happier than at CARE. She lives up to her name, Princess. She is often found perched upon her platform with her feet crossed and her nose up in the air. The only thing that will break her Princess attitude is when someone comes to give her love or chicken. Princess sometimes lives in the Sparks Vet Center because she feels neglected and goes on a hunger strike. Princess, like many big cats, enjoys the comfort of bedding, toys, heat/AC and most of all-lots of human attention. We are very happy to have Princess in our lives.