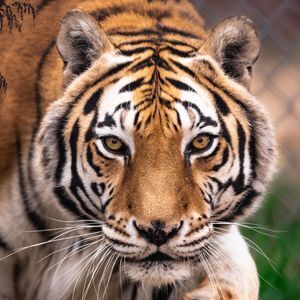 Selena
December 10, 1999 - June 20, 2023
Loving Sponsors: Marsha Little – Richmond, VA and Annie DiMattia - Wilmington, DE
---
Selena's life was nothing short of incredible. Up until last week, Selena experienced remarkable health and vitality for most of her almost 24 years with us - especially given the fact that she had been declawed before she was in our care. Unfortunately, at such an advanced age, things can change very quickly. Right before the weekend, Selena's health took a rapid turn and she was diagnosed with complete liver failure. As hard as it was, it was her time. We will always cherish all of the amazing moments we shared with such a special tiger.
Selena lived a full, long, and very loved lives. She was given the best care we could possibly provide for over two decades. We could not ask for anything more than what she gave us in her time with us. Rest well sweet Selena! 
Selena's Bio
Selena is one of CARE's most loving creatures. She was brought to the facility before it was CARE in 2000 at six months of age. She was to be temporarily boarded here but was never picked up by her very famous owner.
When she was still very young, she saved the life of Sampson, CARE's large male African Lion. When Selena was 10 months old, the 4-month-old Sampson arrived. He was nearly dead upon arrival. After several weeks of life-saving care, Sampson's physical condition improved, although his emotional condition deteriorated. A decision was made to place Selena and Sampson together in the same enclosure. Selena took to Sampson like a mother to a cub. She nurtured him back to health. The unlikely couple, lion and tiger, lived together for many years. But, they could not be together forever. Sampson eventually moved in with another African Lion, and Selena lives alone right next door. Sampson passed away years ago, but she has always had lion neighbors and we think she thinks she might be a lion herself. 
Now Selena is CARE's eldest resident. She is truly remarkable in every way. We are so honored to care for her, and we also have to thank the supplement Antinol for making such a huge difference in her quality of life. She was declawed before coming to CARE which resulted in pain and mobility issues as she aged. Antinol, a natural supplement, has been a game-changer in her care and has literally added years to her life!