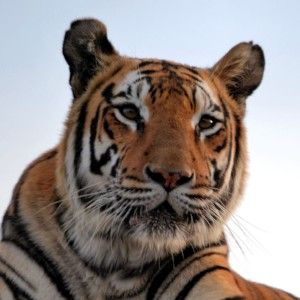 Serena
June 24, 1996 - June 17, 2016
Loving Adoptive Parents: Paul & Sarah Beauregard – Dallas, Texas
Loving Sponsor: Kimberly Swaner in honor of Nigel and Nala - Murray, UT
---
Beautiful, long lives full of love are something we all wish for and this is exactly the life that Serena has had at CARE. While we are sad to announce her passing, less than a week before her 20th birthday, we also celebrate the time we have had with her. She was a bright and unfailing light who shined for a very long time. She was both loving and fierce. She was welcoming to her human CAREtakers and friends, and shared her love (and her many vocalizations) with everyone. We hoped so much to celebrate her milestone birthday with her, but she grew weak, frail, and very, very tired. 20 years of life for a tiger is no small feat, so we gave her the peaceful release that she deserved. Please join us in remembering her unequivocal beauty and grace and the most perfect snuffles in the entire world. She was so special, to so many people, so we asked two people very close to her to write her memorial.
From adoptive parent, Sarah Beauregard -
When asked if I would like to write Serena's memorial, I instantly felt honored yet also not worthy. You see, I might have been Serena's adopted mom for the last 6 years, but her relationships were endless. Serena's openness and love for communication made her a magnet. She let anyone that walked by her have a chance to be her friend, especially if they had some chicken. In the beginning of our friendship, Serena and I would spend hours just laying on either side of the fence just being in each other's presence. Over the years, having a child of my own,  I had less and less time to make the 2 hour trip to see her. Yet, Serena always led me to believe she remembered everything about me and what we had.  I will never forget a single story Heidi (CARE's Executive Director) has shared with me about Serena's birth, to being the fiercest cat on the property, and her unshakable love she had for her mom Lacy.  From my first encounters witnessing Serena attacking the neck of our gift of a huge stuffed bear from, ultimately destuffing it to the core - to this past Thursday watching her laying in the light of her last moon, we will always be grateful for her, her beauty, her fearlessness.  Rest in sweet peace my love.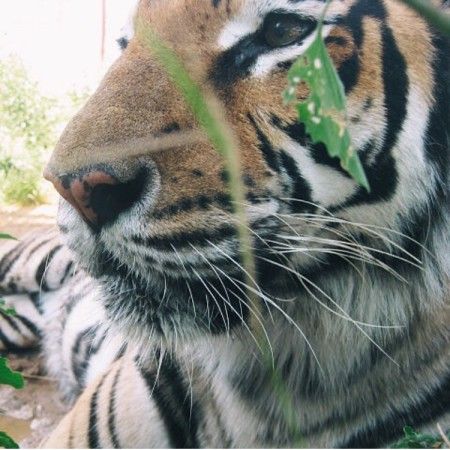 From CARE intern graduate, Brie Butler -
To say that everyone who had the privilege of meeting and working with Serena loved her is a bit of an understatement.   So many of her CAREtakers throughout her 19 years were so deeply touched by her, and I speak on behalf of everyone when I say that her passing leaves us with heavy hearts.  We all have a different story and reason to why Serena was just so special, whether it was her fierce but loving demeanor, her quirkiness, or her never-ending snuffles.
Looking through my Serena pictures and videos brings such sadness, yet such happiness and joy for all of the memories I have of our time together. Serena first captured my heart and soul six years ago when I started my first internship at CARE and it was the spunk and energy of Serena that taught me how to be the animal caretaker I am today.
I first arrived at CARE with a love of animals and the childhood dream of working with tigers and big cats. Despite this, I did lacked the confidence to work with and connect with the cats and was unable to express the love I had for them like so many people who could interact, work, and snuffle or "tiger talk" with them so naturally.
Shortly after my arrival I started to feel more comfortable as I spent time with all of the cats but it was the bond that I started to form with a certain spunky and talkative individual who brought out my own enthusiasm, my own affection, and even my own snuffle. That individual was Serena, the beautiful tiger with so much fire and yet so much sweetness to entrap anybody who walked by her.   She encouraged and brought out my self-confidence to really work with the cats and give them all of my love and enthusiasm. That engaging and intense personality of hers, that affection, that spunk, that contentment, and that snuffle all helped to shape who I was and who I am as an animal caregiver and as a person.
Serena, CARE will never be the same without you and from the bottom of my heart I want to thank you for everything you helped me with and all of the memories, the laughs, the snuffles and most importantly, the love you gave me. Rest easy sweet girl.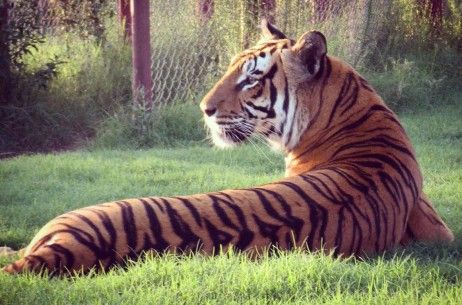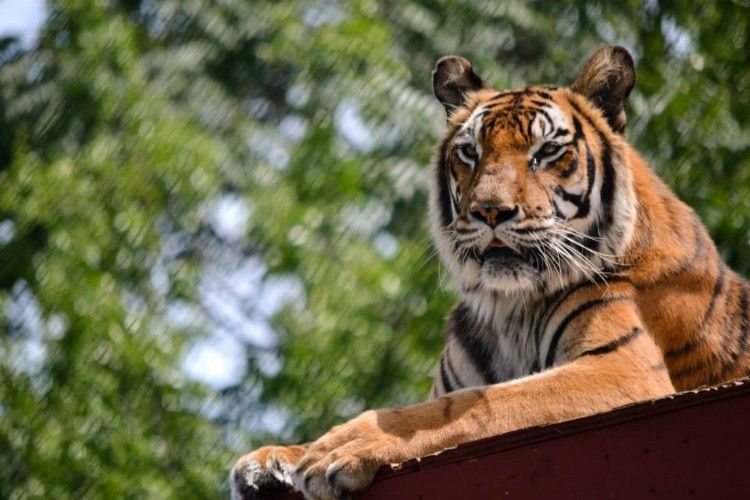 Serena's Bio
Serena has a congenial disposition and is the most content when she gets attention. Most of her time is spent lying on her box or under it near the fence, waiting for someone passing by to give her some love. Every time a volunteer walks past, she can be heard snuffing a greeting at them. Serena is incredibly agile and is quite entertaining at feed time. We call her "Stealth". At dusk she is so elusive she is hard to detect anywhere in her enclosure. It is with stealth and precision she approaches her food and devours it. She is not a difficult tiger to get to know and is ready to love people unconditionally.