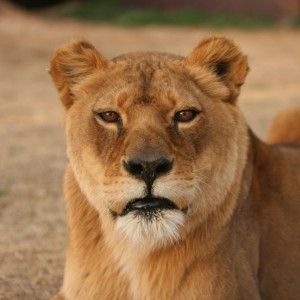 Sprinkles
September 1, 1991 – July 12, 2011
Loving Adoptive Parent: Marsha Little
---
Words do not seem adequate to paint a picture of Sprinkles, for she was a lion one needed to experience. She had such a presence. She had a painful beginning in her young life, which made it difficult for her to trust at times, but she overcame this and lived a long and peaceful life. Underneath her sometimes guarded exterior, she had a huge heart. She was beautiful, strong, independent, wild, intelligent, loving and faithful. Sprinkles was an old soul. Her eyes spoke volumes, and her spirit exuded kindness and love. One only had to look deeply into her eyes to feel her love. To her adoptive mother she was not only a friend, but a soul mate. She will be deeply missed. But, at last she can follow her heart's desires – running freely over wild plains or basking under the glow of savanna sunsets.
Written by Sprinkles' Beloved Adoptive Mom, Marsha
**Read about Sprinkles' (aka Kenya) touching return to her home in Africa here.