Zeus
May 6, 1997 - July 13, 2015
Loving Adoptive Parents: Christopher, Kathleen & Donovan Ray of Dallas, TX
Loving Sponsor: David and Carla Montroy – Frederick, MD
---
Zeus, a name known in Greek mythology as the God of the sky and thunder and also ruler of Mount Olympus, was nothing short of great. Upon some of my first encounters with him I thought he was very loving, regal, and majestic and many visitors to CARE repeated those exact words. He was one of our bigger boys and easily filled the shoes of our gentle giant with a huge heart.
Shortly before my arrival to CARE Zeus had lost his lifetime partners, two female sisters, with whom he had shared his kingdom for nearly 17 years. Elley passed in November and Jezzabell passed away just short of one month later. With winter coming many worried about him becoming depressed and lonely causing him to lose his fantastic health.
I arrived to CARE January 14th and it didn't take me very long to find myself drawn to Zeus. He didn't come to the fence too often but as I was around regularly he would chuff at me and moo for attention, especially when I would say his name. As time passed I could feel his eyes full of wisdom watching me from across the compound, just waiting for me to be in earshot to greet me with one of his sweet chuffs. It seemed that we had both found each other for a reason, he was in need of a friend and I was as well.
As changes happen it was decided he should get the big enclosure out back that was vacant to have some more space and better accommodate some of the other members of CARE. This change worried many people, tigers are great and strong animals, but a huge change could easily put a lot of stress on them. Zeus was going on 18 and had just lost his girls. After the first day he was already at home! I had gone out to spend time with him and give him treats (chicken drumsticks) to keep him happy and comfortable in his new environment. Sure enough he was ready for my company and came to the fence and put his paws up next to my feet while I was writing in my journal. After a while he dozed off, then woke up and decided to roll in the wild flowers. This was the day that I fell in love with him.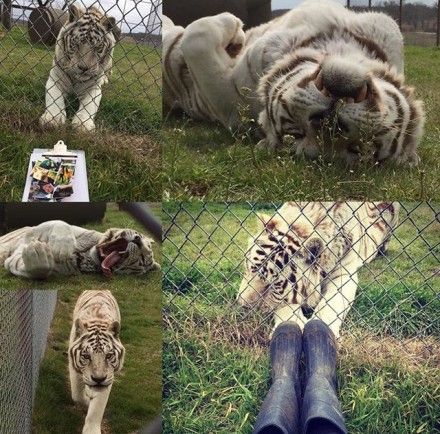 From that day forward, I would bring him his treats and go on evening walks with him. Most nights I stayed there past sunset until I could no longer stand the mosquitoes. I really loved seeing his excitement for chicken, even in his old age, he would trot across to greet me! One day we even watched a crazy storm roll in together. I found myself spending time with him any chance I got; it was hard to leave his side. From his sweet chuffs, kind eyes, to his powerful presence, I was in love. Never had I expected to form such a strong bond with a white tiger. Sometimes he wasn't very interested in the meat we fed him, so I would go cut the finest filets for him and hand fed him through the fence. To my excitement I found out his 18th birthday was just one day before my 25th birthday, so I made him a birthday cake out of ground turkey and chicken. That silly sweetheart was so excited that so many people were there to sing him happy birthday that he walked right by his cake!
As my time was coming to a close, I was having a hard time accepting I had to leave him. My friends joked and called him my boyfriend because of how I talked about him to strangers and spent hours a day by his side through the fence. One evening I wrote this in my journal: I'm hungry and cold but Zeus is cuddled up against the fence on the other side from me. I've rarely loved something so much it hurts and he is one of those exceptions. Every moment I get with him is a blessing. I only have a couple weeks left and I don't know what I will do when I leave. He is the sweetest, most gentle tiger ever. I could lay out here with him for eternity. It's just so peaceful, I feel like I'm in another world. When I look into his eyes, as Executive Director Heidi Krahn puts it, "you can see the universe". I can tell you as the day came to leave, it was one of the hardest goodbyes I have ever had to do.
When I got the phone call from Heidi my heart dropped, my chest got tight, the news was hard to bear. I had known this day wasn't too far off in the future, but I had hoped I would see him again when I planned to visit in August. Thankfully Zeus didn't endure any of the pain and suffering all too many cats do when they become older in age. I am so grateful to say he passed away peacefully in his sleep on the morning of July 13th, 2015. As heartbreaking as it is to lose him I truly believe it was his time. Just seconds before receiving the call I had been going through my pictures of him and posted one of his goofy photos as a happy birthday to my friend. So I like to think that he was on my mind as he went on to tiger kingdom. I also must note that morning we had some terrible storms, so bad I woke up to the loud thunder and bright lightning. It had continued through the morning and was predicted to last all day. I lost all motivation to do anything that day. But then almost immediately after hanging up the phone, the sun came out and it was one of the most beautiful days we have had this entire summer. I like to think that this was his way of telling me he was in a better place and he wanted me to be happy.
He has forever etched a huge place onto my heart, as well as many other people. He will be missed dearly. I will cherish every memory I have of him, especially the nights he would sleep against the fence just trying to be close to me. Rest in peace my gentle giant, Zeus.
Written by Kelsey Prediger, Intern Graduate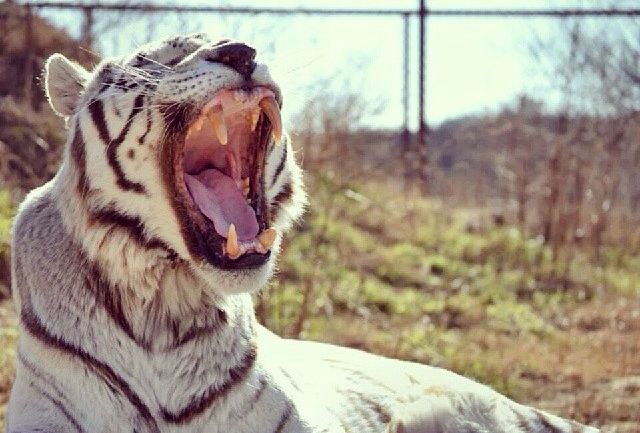 Zeus's Bio
Zeus was the name for the Greek God of sky and thunder who ruled Mount Olympus and was the king of all the gods. This white tiger here at CARE was aptly named, for he is a magnificent beast almost always found in the highest place in his enclosure, on top of his housing – a good vantage point to overlook his kingdom. He has extremely long and sharp canine teeth that poke out from under his cheeks, giving him a ferocious look. However, he is a gentle giant and looks after his female companions, Jezzabell and Elley, very well.