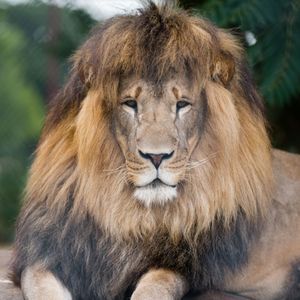 Araali
Sex: Male
Born: June 6, 2014
Loving Adoptive Parent: Courtney Clark - Decatur, TX
Loving Sponsor: Laura Kassanos - Pentwater, MI
---
CARE's male lions Araali and Zuberi have quite a history. At around 6 months of age, the two brothers were diagnosed with Wobbler's Syndrome - a neurologic disease that affects the spine in the neck region. They were given a very poor prognosis, but we weren't ready to give up on them. So many people pulled together to give them the best care possible and make sure that they stay healthy and happy. You can read about their champions HERE!
After around the clock care, multiple treatments and therapies, and a lot of work and worry - the boys have grown up to be very healthy and happy lions! They walk, run, play, and do everything that normal lions do. Looking at them now, you would never know that at one time they could not walk and their future was uncertain.
Because, even if they don't act like it, they will always be a little different - we have had to provide special accommodations for them. They have an enclosure that is modified to meet their needs including an indoor area with climate control and television. Yes, these two lions love TV! When they were ill and not very mobile, cartoons kept them entertained when their CAREtakers were not around. They grew up loving to watch Dora the Explorer and later, Peppa Pig. They even get music on their TV, New Age being their favorite genre. 
These special lions also have an incredible bond - they are very close and have been their whole lives. We cannot imagine one without the other. Araali is the larger and darker of the two, but both have matured into absolutely stunning males!