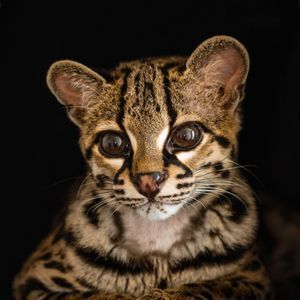 Juno
Sex: Female
Born: May 30, 2021
Loving Adoptive Parents: MacKenzie Trezise - Madison, WI 
Loving Sponsors: Ilona Nazarova - Ukraine and Ashes DiMaria - Dallas, GA
---
In February of 2022, CARE welcomed a mysterious little creature. We were contacted by Wild West Wildlife Rehabilitation Center (WWWRC), in Amarillo, Texas about a terrified and tiny cat that arrived at WWWRC after being found strolling around central Texas. 
When Juno was found, she weighed a mere 4.5 pounds. She was malnourished, had ulcers on her little feet, and had been diagnosed with Feline immunodeficiency virus (FIV). It is possible she was a pet at one time, since cats of her kind are not found in Texas, but even if she was not, she would never be able to be in the wild. 
Before her arrival at CARE, she was also believed to be an oncilla - very similar to the margay, but smaller. However, after she arrived and we had a chance to really take a look at her, we started to believe she was a very young margay. Eventually we were able to confirm our suspicion with the help of our genetics friends at Texas A&M!
We set her up in an inside area for the winter and gave her lots of toys and places to climb - just what a young margay needs. And, we also got her a clean bill of health. Once the weather got warmer, we were able to renovate one of our enclosures to create the perfect space for her. 
We continue to learn about this little wonder all of the time. She is very active at night, and boy is she an expert climber! She will literally hang from the ceiling by her back feet. She is so curious about everything, and is a predator through and through! She absolutely destroys toys in seconds. Her little ears are always turning this way and that picking up all of the sounds around her. And she is the sneakiest little thing! We absolutely adore her and look forward to providing the best home possible for our tiny girl for the rest of her days!
A special thank you to Stephanie Diaz and the WWWRC team for entrusting CARE with another precious resident. Bob the bobcat came from the same facility back in November of 2021. It is an honor that they chose CARE as a home for both Bob and Juno.