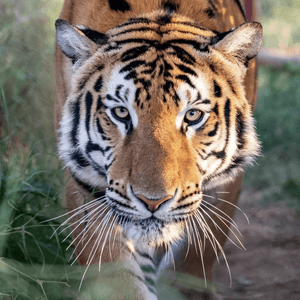 Ezra
Sex: Male
Born: April 13, 2017
Loving Adoptive Parents: Kristin and Chris Warwick - Heath, TX
Loving Sponsor: Jessica Goodrich - Waco, TX
---
Ezra was a former pet seized by Texas Parks & Wildlife in December of 2017. For six months he was held at a facility in South Texas as an active investigation continued. As the facility never intended to have him as long as they did, authorities eventually asked if CARE could give him a long-term home. So, in late June 2018, Executive Director Heidi drove all the way down to the Mexican border to pick up this special boy who was about 12 to 18 months old. The poor little guy had no name and had been through an awful lot in his short life, but it was immediately clear that he was open to a lot of love and attention! 
The next day he successfully made the trip from his temporary home to his forever home. He has been so brave, exploring his new surroundings and getting to know his knew CAREtakers. Ezra is now all grown up and is one of the most loving tigers at CARE. He can be a bit shy and nervous around groups, but has so much love to give his favorite people one-on-one.
Ezra is also very talkative (he sounds like Chewbacca) and energetic. He loves to play with his best friend, and neighbor, Slade. Seeing these two big males playing with each other through their fence is really something to see.