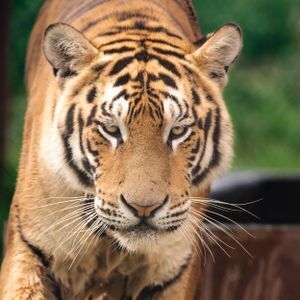 Idris
Sex: Male
Born: August 23, 2019
Loving Adoptive Parents: Tifani and Shenandoah Chrisman - Red Bluff, CA
Loving Sponsors: Amber Drew - Los Angeles, CA
---
In October 2019, just a few weeks after taking in tiger cubs Kel and Leon, we got a second call from their previous owners asking if we could take in two more babies. They were supposed to go somewhere else and it had not worked out. So now, our two became four with the addition of Kona and Idris. We believe they are all siblings, but we are not 100% sure. 
Idris was huge when he arrived, much bigger than Kel, Leon, and even Kona. He was dark orange, with striking black stripes. And he was both spunky and sweet. Out of all of the cubs, he seemed in the best health. But, it didn't take long for our sickly Leon to surpass even big boy Idris in size! 
Idris was a pretty mellow cub, but grew up into a bit of a trouble-maker - he likes to pick fights with his siblings! But, he has a great relationship with his CAREtakers. He was named after the actor Idris Elba, who lended his voice to play Shere Khan in the movie The Jungle Book. So, it's natural that Idris' nickname is Khan!