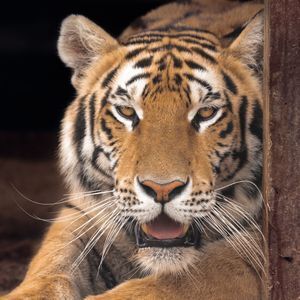 Kel
Sex: Female
Born: August 23, 2019
Loving Adoptive Parent: AVAILABLE
Loving Sponsor: AVAILABLE
Lifetime Guardian - In Memory Of David Hancock - Springtown, TX
 
---
In September 2019, we were contacted by someone with a request for help. They had found us online and explained that they recently took over ownership of an exotic animal facility. They were trying to spay and neuter all of the animals there, but in the meantime, these two babies were born. They told us that they had their hands full, so they asked if we could give a home to the babies. We agreed to take them in and picked them up a week later.
They were only 5 weeks old, so they needed round-the-clock care. But, siblings Kel and Leon were both sweet and spunky! Kel's poor little ears were all shriveled and raw from her brother sucking on them. But, they got a clean bill of health otherwise. 
A few weeks after we picked up Kel and Leon, we got a call from the same people saying that there were two more cubs that were supposed to go somewhere else and it had not worked out. They asked if we could take the two other boys as well. So now, our two became four with the addition of Kona and Idris. We believe they are all siblings, but we are not 100% sure. 
Kell is lighter and much smaller than her brothers, but she is no push-over! She gives as good as she gets from her bigger siblings. But, most of the time, she spends time on her own, doing her own thing. She can't be bothered with all of the boys' nonsense!