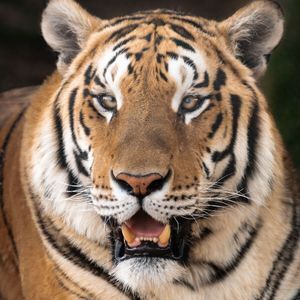 Leon
Sex: Male
Born: August 23, 2019
Loving Adoptive Parents: AVAILABLE
Loving Sponsors: AVAILABLE
---
In September 2019, we were contacted by someone with a request for help. They had found us online and explained that they recently took over ownership of an exotic animal facility. They were trying to spay and neuter all of the animals there, but in the meantime, these two babies were born. They told us that they had their hands full, so they asked if we could give a home to the babies. We agreed to take them in and picked them up a week later.
They were only 5 weeks old, so they needed round-the-clock care. But, siblings Kel and Leon were both sweet and spunky and they got a clean bill of health from our vet.
However, Leon was about to give us all a big scare! One night after a completely normal feeding, he vomited and ended up aspirating in his sleep. He was rushed to the vet in the morning and was unresponsive for about 12 hours. He finally came around and starting perking up. We changed his feeding frequency and amount and did not allow him to be with his sister unsupervised until he was stronger. We had a baby monitor on them so we could watch them when they slept. All precautions were taken so this did not happen again. Now Leon is a big boy, no longer bottle feeding, and very healthy! 
A few weeks after we picked up Kel and Leon, we got a call from the same people saying that there were two more cubs that were supposed to go somewhere else and it had not worked out. They asked if we could take the two other boys as well. So now, our two became four with the addition of Kona and Idris. We believe they are all siblings, but we are not 100% sure.