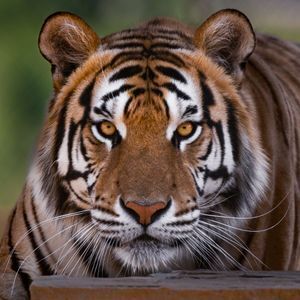 Mika
Sex: Female
Born: August 4, 2017
Loving Adoptive Parents: John Dixon and Family - MD
Loving Sponsors: Angelia Niederhelman - Fort Wayne, IN
 
---
In late October 2017, CARE welcomed a tiny but mighty package - a 2-3 month old female tiger cub. While she needed some additional nutritional support, she was otherwise healthy.
We had just taken in another tiger cub, and two mountain lions from the Dallas Zoo, so we decided to have an auction to raise funds for the new cub's care and gave the winner the ability to choose her name. We got her name and an amazing story to go with it!
Clay and Jackie Montgomery won the auction and chose the name Mika (pronounced Mee-ka)! Clay provided us with the following story of how he chose her name as well. 

"The documentary War Dog: A Soldier's Best Friend explores the relationship between military dogs and their handlers during war. It follows 3 soldiers, and their experiences, with their dogs. One in particular is SFC John Dixon. He was selected as one of four Army Rangers to begin a Ranger dog program. He worked with his dog, Mika, for over 2 years before going on 2 deployments in Afghanistan. On his second deployment they walked into an ambush. John was shot and had to be evacuated. He was briefly reunited with Mika in a hospital temporarily, but he was going to be sent home to recover, and she was going back into service with another handler. However, Mika suffered from PTSD and would no longer perform her duties as a military service dog. At this point, John was healing, and was going to be deployed again. He and his family tried to adopt Mika then, but with John heading back out, and Mika still young, the Army decided that she would make a good police dog and she was sent to a sheriff's office in Mississippi with the understanding that upon her retirement John would be able to take her home. Mika served as a police dog for 6 years before officially being retired. John learned of her retirement in 2015, and contacted her handler: Deputy Paul Leslie. By this time, Mika had become a part of Deputy Leslie's family as well, and they were unwilling to give her up. From this point both sides have differing accounts of how things proceeded. However, what is undisputed is that John last saw Mika in 2008 while he was wounded. He has a picture of her in his house next to his children, and saved her collar and name patches over the years while he waited for her. He has stated that he didn't want to rip Mika from the Leslie's but that he needed her to know he was still alive. He wanted to help care for her in her later years. He felt he owed her this, and that it would help him more completely settle into civilian life if he was able to see her. Mika died last month without John ever being able to see her. John and his wife had tried for over 2 years to be able to work something out to get Mika back into their lives in some form or fashion.
I would like to name the new cub Mika, in memory of Mika and the sacrifices that she and SFC Dixon made for all of us. I would also like to give him, and his family, the year adoption. I can only imagine the pain and frustration SFC Dixon has felt, and will undoubtedly feel the rest of his life regarding not being able to see Mika again before her death. My hope is that this will in some way help."
We hope that everyone sees this choice in a name as we do – a special dedication and honor given to a very special dog and the man that fought by her side. We are grateful for their service. We were overjoyed when John Dixon and his family came to visit in 2022 and finally meet Mika!
Mika has grown up into an incredible tigress. She lives with Zara, the other cub we took in around the same time, and the two are a perfect match. Mika is known for her dramatics, she is endlessly entertaining!