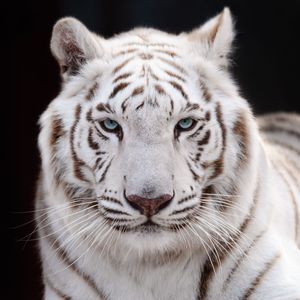 Princess
Sex: Female
Born: April 2, 2016
Loving Adoptive Parents: Andrew Gibson - Tyler, TX and Lisa & Justin Cole - Freeport, TX
Loving Sponsors: Ron & Kim Hein – Ft. Worth, TX and Emma Calder - Wokingham, UK
---
Princess is a beautiful and sweet white tigress. Princess was extremely friendly immediately upon her arrival at CARE, although a little nervous. She seemed really confident once she was in her enclosure as well. Only an hour after her move, she was sitting on the top platforms taking a nap. We were so pleased that she seemed so at home. However, she had a setback later in the day. Maybe all of the stress of the move and commotion in a new environment hit her all at once, but she became very scared and confused.
We spent months doing everything we possibly could to make her feel as comfortable and safe as we possibly can. We put up screens around her enclosure to make her feel a little more secure. Interns and volunteers that she seemed most comfortable with spent hours sitting with her to reassure her. We took special care to make sure she wasn't startled or threatened. After a long time, she started coming around. She started coming out of hiding more. Started playing more and really started looking forward to extra treats! Not every animal reacts the same when they arrive. Some settle in right away, and for some, it takes time to learn to trust.  
Princess has come a very long way since then. She can still get startled easier by new things than many of the other cats, but she no longer cowers in fear. She is friendly, playful, and always has LOTS of snuffles ready for her CAREtakers!
To read about Princess' arrival at CARE, click here.