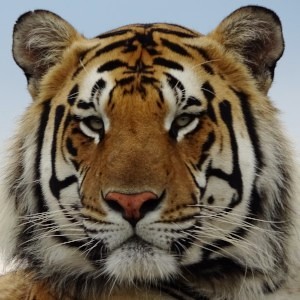 Slade
Sex: Male
Born: October 18, 2014
Loving Adoptive Parents: Kim and Olivia Frome - Colby, WI
Loving Sponsors: Geoffrey Steinberg - Philadelphia, PA 
---
Boomer and his brother Slade are two rambunctious tigers who came to live at CARE in the Fall of 2014. They belonged to a private owner in Florida who was looking for a good home for them to grow up and live their rest of their lives. The owner contacted us to see if we would be able to care for them, and the rest is history. 
When the boys first arrived, they were tiny and sweet. Once they started getting bigger - and they got A LOT bigger fast - they were always getting into all kinds of trouble! Boomer was usually the calmer of the two, if there even was a calm one, and Slade was constantly going, he never slowed down! As they have gotten older Slade has mellowed out a little bit. They both spend their time wrestling, snuffling at people trying to get attention, stalking tour groups, and eating a ton!
We have so enjoyed watching them grow and seeing their individual personalities come out! They are big, healthy boys with a long, loved life ahead of them!