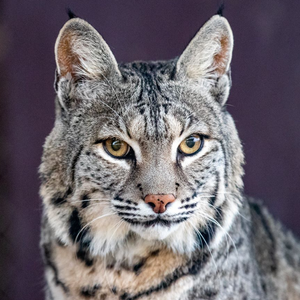 Bobbie
Sex: Female 
Born: April 2, 2011 
Loving Adoptive Parents: Cathy Hellesto - Surprise, AZ; Pop the Otter - Grand Prairie, TX; and Aaron and Rebecca Klopp - Canyon Lake, TX 
Loving Sponsor: Monica Evans - Memphis, TN
 
---
Bobbie (short for Bobigail) came to CARE in January of 2016 when her family, who had kept her as a pet since she was a baby, wanted to provide her with a more suitable home.
Bobbie and a sibling had been found as orphans when a rancher shot their mother. The rancher kept one of the bobcat kittens and gave the other away. Young Bobbie eventually came to be with the family that she would spend the next 4 years with. She spent the first part of her life in the house with the family and the family pets. Eventually she was housed in an outdoor enclosure.
Bobbie was loved and cared for, but a domestic home is no place for a wild cat. And, the family was unable to spend enough time with Bobbie and give her the interaction that she needed as a captive raised cat.
Bobbie has a sweet and loving personality, she welcomes her CAREtakers with chirps and trills. We have also seen her wild side, she is an excellent hunter who is doing a tremendous job of keeping her enclosure mice-free!