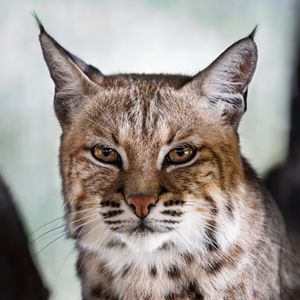 Mia
Sex: Female
Born: April 2015
Loving Adoptive Parents: Shawnna Conner - Carrollton, MO
Loving Sponsors: Tracyann Reynolds - Wisconsin
---
On June 3rd, 2015, a little boy and his family discovered a tiny bobcat kitten on a construction site. They waited a day to see if the mother would come back for her kitten. Once she didn't, they took her home and called us to see if we could take her in. We rushed to their home in Paradise, TX not knowing what to expect. Was she sick, injured, afraid or was it just a tabby kitten mistaken for a bobcat? When we arrived, we knew it was definitely a bobcat, around 8-10 weeks old. She looked dehydrated, but other than that, healthy. The little boy had taken very good care of her, he had even built her a little "habitat" to stay in. The most surprising thing about the situation was that she was perfectly at home in the family's arms. They were sad to see her go, especially the boy, but knew that it was the best thing for her.
The baby bobcat purred the whole way back to CARE. Initially, because of her complete lack of fear around people, we thought she might have been a pet. But, certain behaviors made it seem more likely that she was separated from her mother. We think the separation occurred because of all the floods in the area. The little boy that helped care for her asked if we could name her Mia, so we officially called her Mia de la Trinity in honor of the little boy who loved her and the Trinity River that was responsible for much of the flooding in our area.
Unfortunately, because she bonded so quickly with the people who found her and is completely comfortable with anyone and everyone, she was not a candidate for rehab and release. Her friendliness and lack of fear meant she would likely seek out people as a source of food and comfort. But, she does get to live her life with her best friend in the world, Max, another bobcat that came to us shortly after Mia. The two are in love with each other and we are so glad they get to spend their lives playing and cuddling. 
*As a reminder, if you do find any wildlife, especially babies – please do not remove them from where they are. Often times, their mothers are nearby. If you notice that their mother has not come back, please do not pick them up! Wild animals can carry many diseases, and even brief contact with people can lead to them not having a chance of being rehabbed and released. Call local authorities or a rescue in your area who will know what to do next.