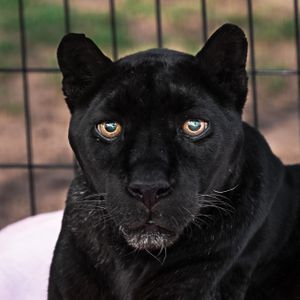 Raven
July 15, 1997 - July 21, 2022
Loving Adoptive Parents: The Arnold Family - Arlington, TX; Tony Romeo - Milbrae, CA; and Crystal & Dana McKinney - Columbia, MD
Loving Sponsor: Kathy Kelehan - Los Angeles, CA
Lifetime Guardian: Brian and Carol Harney
---
On July 21st, 2022, the world's oldest living leopard, and one of the most amazing animals to ever exist, passed away peacefully in her sleep at the grand age of 25 years and 6 days old.
Raven was loved by so many from all over the world and exhibited all the strength, beauty, and majesty that every member of her species does. In addition, she was just the sweetest old lady that we adored with all of our hearts. There truly will never be another like her.
In her younger days she was both fierce and loving. And in her golden years she showed gentleness and dignity that was remarkable. She blessed our lives for longer than we could have ever asked for and we are so honored to have had the time that we had.
Thank you Raven for being you. From your huge heart and your stubborn streak to your velvety fur and huge golden eyes - you are absolutely, inarguably, and completely perfect. And thank you to the many, many people that were a part of the loving care she received every single day of her incredible life.
Thank you Ray for giving us one last birthday to celebrate you. Rest easy sweet girl. Our hearts will always carry your memory.
---
Raven's Bio
Raven is one of the most remarkable animals to ever live at CARE. Raven has always had a soft side, but was also quite sassy for most of her life. Sweet as she may have been, she was still all leopard! She spent almost 17 years with a male leopard named Spotty. By the time he passed away, Raven was already a old girl and getting sweeter by the day! Now she is an absolute angel. Still a leopard and gets that spark in her eye meaning mischief, but loving and affectionate and just perfect!
Raven has also always been small for leopard, but as she has aged, she has also shrunk, now weighing in at about 60 pounds. Raven suffers from bad joints and arthritis which required us to provide special accommodations for her. She enjoys the luxury of both an indoor area with beds and a big screen TV and an outdoor area with more beds and a view of everything going on at CARE. It is a smaller space just right for her so she doesn't have to walk too far to get to a bed, a water bucket, or her TV. And she is always ready for one of her CAREtakers to come spend time with her. 
Soon after Raven turned 24 years old, she was named the oldest living leopard in captivity by the Guinness Book of World Records. This is a big deal. Leopards typically do not live nearly this long. And, other than her joint problems and some cataracts, Raven is doing spectacular. She is pampered and given whatever she wants, truly treated like the queen that she is. We could not adore our Raven more!