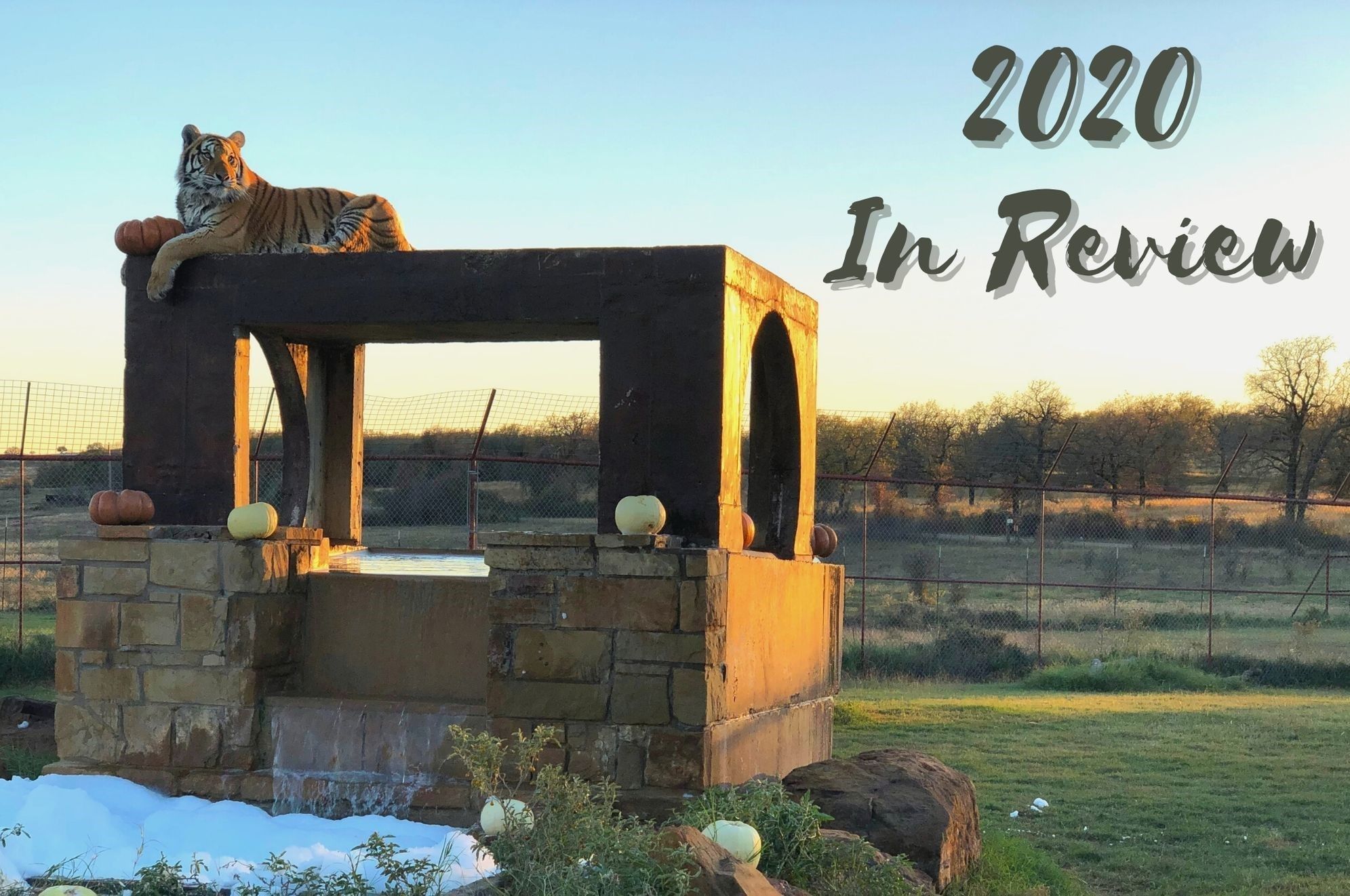 Thank you for your support in 2020!
This year has certainly been one for the history books! A global pandemic was not what any of us were expecting at the beginning of the year.
Honestly, we were terrified when the virus first began spreading…for so many reasons.
We did not know much about the virus, and the illness it could cause, back in March. As a precaution, we made the hard decision to close CARE's doors to the public. As news came out that big cats and primates could catch the virus, we knew the decision was the right one. But it put CARE – a non-profit that relies entirely on donations - in a very precarious position. Without donations from tours and guests in our Safari Suites, we did not know how long we would be able to operate without risking the animals' health and opening back up.
In addition, we faced food shortages, difficulty finding supplies that we needed for building projects and everyday operations, and we were without many of our volunteers who were asked to stay away from the animals that they love for their protection. It has been a difficult year, to be sure.
But our mission never changed. We still had a job to do – to give a home to animals that need one. Provide them with all that they need to be happy and healthy. And to share them with you, so you love them too.
And you do. You proved that more than ever this year. YOU came to our rescue over and over. Every time we asked for help, you were there. It is because of you that the animals stayed safe and our tiny group of essential staff, interns, and volunteers stayed sane.
We saw such generosity and kindness during a time when so many were suffering, there are simply no words to tell you how much it means.
Because of you, we strapped in and got things done. It was a LOT of work, but boy did that work pay off! We want to remind you of what YOU helped us do this year.
2020 Completed Projects
We completed a new 20,000 sq. ft. complex with enclosures for Boomer, Slade, and Ezra. The new enclosures allowed us to conduct the Big Cat Shuffle of 2020 – moving multiple cats around to provide more room and meet each cat's needs better.
We built Raven improved accommodations - a new outdoor enclosure attached to the indoor sunroom so she could round-the-clock care and pampering.
We installed a new 300 sq. ft. freezer that enables us to stockpile food for the cats – especially important during a time when meat shortages were a constant threat.
We gave Malika, the Siberian Lynx, a heated and cooled indoor enclosure attached to her outdoor space.
We purchased a much-needed new tractor! We can not operate without a tractor.
We combined Allie and Archie's enclosure with the enclosure next to it, doubling the size of their space and giving them access to a new cave and shade tree.
We added lighting to much of the compound, making working after dark easier and safer.
We were able to get Milo the veterinary care that he needed to fix his foot issues – including imaging, testing, and eventually the amputation of his toe – and he is doing so much better now!
 We built Allie and Archie a geriatric indoor area to protect them from the heat and cold and allowing for easier care.
We built a brand new, covered barn area that gives us so much more protected space and storage for our equipment.
We also celebrated several landmark occasions this year!
Kevin celebrated his 1-year CAREversary! He has really settled into his new home here and he is the most adorable and loved fellow.
The Kids (Kel, Kona, Leon, and Idris) turned a year old and moved into their big tiger enclosure.
Raven turned 23 – and is being considered for the title of Guinness Book of World Records' oldest living leopard.
Selena turned 21 – she is the oldest living tiger at CARE and still going strong!
Due the pandemic, we tried a few new things to keep you connected to the animals.
We released a twelve part Virtual CARE Tour
We conducted our first ever Virtual Fall Festival – allowing people from all over the world to join in the celebration of our favorite time of year and raising needed funds for the facility!
We began working on improving our internet and connectivity issues so we can do more streaming and virtual events in the future.
Your support made ALL of this happen. And that wasn't all…you did even more!
There is also all of the supplies, toys, food, and other necessary items that you sent from our Amazon wish list us every time we mentioned a need.
Several hundred of you became CARE Patrons by joining our Patreon channel – getting Q&As with CARE staff, behind the scenes content, and exclusive news and helping bring in approximately $1000 a month in contributions (a HUGE help during this time)!
Last, because of your reviews, CARE was a recipient of a 2020 Top Non-profit award from Great Nonprofits!
Your generosity is such a gift.
We also cannot forget to mention that we said good-bye to our beloved Bindi – who died at the grand old age of 15. Bindi spent half of her life with us after being a former pet. She was loved and cherished by the CARE family. Thank you for loving her as much as we did, you made a difference in her life here at CARE.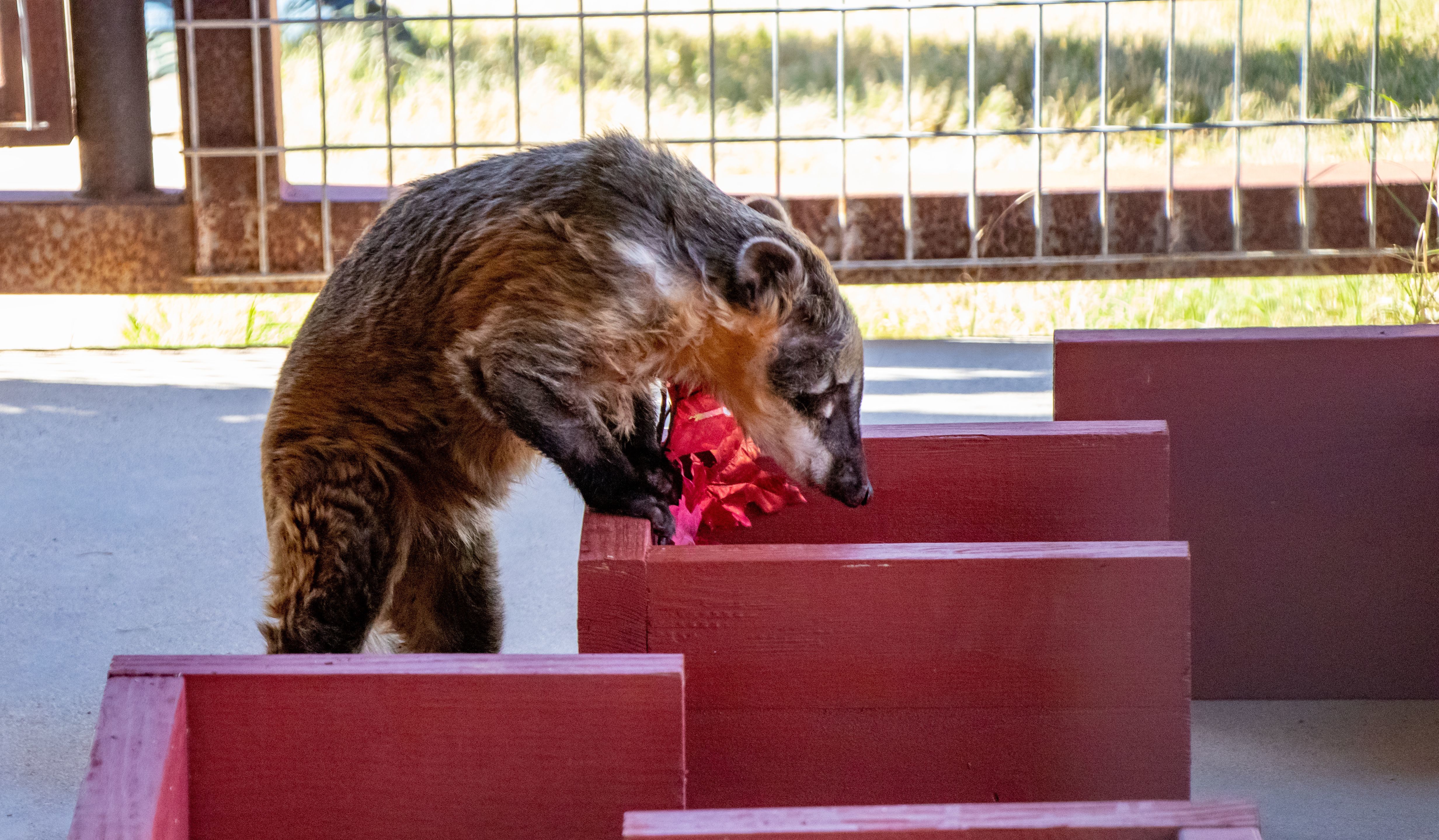 ---
You have made it possible for us to achieve all that we have this year, and we thank you – from the bottom of our hearts – for that.
Our job is never done though. There are always more ways to improve the lives of our animals and to provide a much-needed home to others. And we will always need you to help us with that.
So, looking towards 2021 we ask you for your generosity and support once more. Anything you can do helps, and we know we can count on our friends, our supporters, our pride! Please DONATE to help us continue our mission.
If you are unable to give a monetary gift, there are so many other ways to help. Just visit our How to Help page to learn about all the ways you can share your CARE…several ideas cost you absolutely nothing.
Thank you for such an amazing year, and we hope that every one of you has a happy and healthy 2021!
With love,
The CARE Family