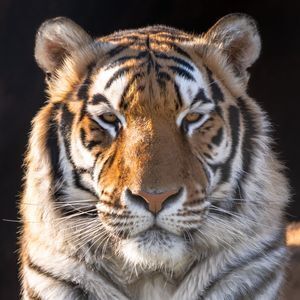 Nadal
Sex: Male
Born: October 2015
Loving Adoptive Parents: Sarah Baer - Astoria, NY 
Loving Sponsors: Aaron and Rebecca Klopp - Canyon Lake, TX (In Memory of Ace)
---
In December 2016, CARE welcomed 4 new tigers to the facility. Brothers Divali and Nadal and (unrelated to the boys) sisters Naya and Shaanti all came from a facility in Florida that was unable to keep up with their care.
We found out about the tigers only weeks before, and after talking to the owner and the authorities, we agreed to take them....with only days to prepare for their arrival.
We were told that all of the cats were between 2 and 3 years old. But, when they showed up, we found out that was not the case. The boys were tiny, and we later confirmed that they were just over a year old. And, they were perfect!
The brothers entered their new home and immediately began running and playing, and have not stopped since. They are very ACTIVE boys and so obviously at home and happy here, it is a beautiful thing to see!
Because of their new start here at CARE, all of the cats were renamed to have special meaning. Nadal's name means "fortunate". Not only do we feel that he is fortunate to have a home that is committed to taking the best care of him and his brother forever, but we feel extremely fortunate to be able to provide that home and loving care!