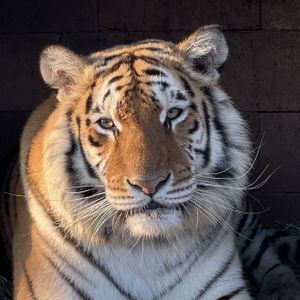 Shaanti
Sex: Female
Born: February 7, 2014
Loving Adoptive Parents: Kara and Steve Van Duzee - Dallas, TX 
Loving Sponsors: Eimear Thorton - Drogheda, Ireland and Tomi Hakala - Espoo, Finland
---
In December 2016, CARE welcomed 4 new tigers to the facility. Brothers Divali and Nadal and (unrelated to the boys) sisters Naya and Shaanti all came from a facility in Florida that was unable to keep up with their care.
We found out about the tigers only weeks before, and after talking to the owner and the authorities, we agreed to take them....with only days to prepare for their arrival.
The girls are perfect and gorgeous! Their first steps in their new home were a little tentative, the larger enclosure and grass being strange to them. But they soon relaxed and began acting like they were finally at home. The girls, being a little older (and maybe wiser) than the boys certainly don't show the reckless abandon that the boys approach everything with. But, they are loving and happy.
Because of their new start here at CARE, all of the cats were renamed to have special meaning. Shaanti's name means "peace" which we intend to provide for her and sister their entire lives.